Elizabeth Wing Brooks
Elizabeth Wing Brooks
Professor
Phone: (925) 424-1260
Office: 21224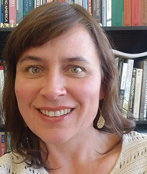 Office Hours Fall 2023 - Contact me!
In my office, 21224 (upstairs in the new 2100 building next to the library):
Mon. and Wed. 1-2, Tues. 10-11
On Zoom (click on this LINK):
Fri. 10-12
About Me
Hi! I am from California and live in Oakland with my husband, our three kids, a dog, a cat, and a gecko... I have spent the past 20+ years teaching Humanities, Comparative Literature, English, Spanish, Philosophy, and Film courses around the Bay Area, both in-person and online. In the fall of 2016, I became a full-time instructor at Las Positas College. At LPC, I coordinate both the Humanities and Film Studies Programs, which is wonderful because I get to teach courses that introduce students to the the various artistic disciplines - how they evolved over time and how we might appreciate them, as well as Film Studies and Global Cinemas, and courses in World Mythology and American culture. I have a PhD in Comparative Literature from UC Davis, an MA in Spanish from University of Cincinnati, and a BA in English and Spanish from University of San Francisco.


Teaching Humanities and Film Studies courses at LPC makes me happy, as does hiking, gardening, traveling, doing crafts, working on puzzles, listening to music, and spending time with family and friends!