Miguel Pimentel
Student Services
Miguel Pimentel
Dream Center Coordinator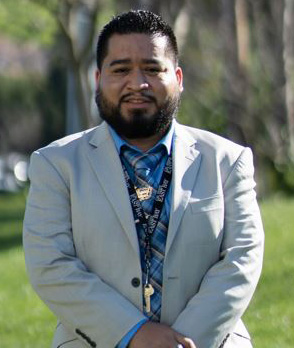 Education
San Jose State University (2019) | Master of Arts, Education/Counseling and Student Personnel, APCC Credential, PPS Credential, CWA Credential
Cal State East Bay (2012) | Double Bachelor of Arts, Ethnic Studies with a Concentration in Latino/a Studies and Genders and Sexualities in Communities of Color, Secondary Major: Spanish
Biography
Miguel Pimentel was born in Puruarán, Michoacán Mexico, but came to the United States when he was 11 years old. He graduated from California State University East Bay (CSUEB) in 2012 with a double B.A in Ethnic Studies and Spanish. As an undocumented student in college, he was able to navigate the system in which he became the first in his family to attend and graduate from a 4-year university. He qualified to apply under Obama's Administration Deferred Action for Childhood Arrivals (DACA) that allowed him to work in the U.S.
After successfully graduating from CSUEB, he began to work in the education field. He worked at a public charter school in East Oakland for three and half years where he served in different capacities as an Office Assistant, Parent Activities Coordinator, 6th and 7th grade Advisor, College and Academic Counselor's Assistant, After School Educator, and Executive Assistant to the Assistant Principal of Middle School Students. In 2015 he was selected among 200 people around the world to participate in a Family Engagement Institute at Harvard University. In May 2017, he was selected to participate at a Conference in New York City with other 120 undocumented students (Dreamers) across the nation.
He graduated in May 2019 with his Master's Degree (M.A) in Education/Counseling and Student Personnel from San Jose State University's Counselor Education Graduate Program and also obtained his Pupil Personnel Services (PPS) Credential, Child Welfare and Attendance (CWA) Credential and the Associate Professional Clinical Counselor Credential (APCC) from the Commission on Teacher Credentialing and the Board of Behavioral Sciences from the State of California. Also, in 2019, he was selected to receive the Cal State East Bay 40 under 40 Award. The 40 Under 40 Award program identifies alumni aged 40 or younger who have demonstrated dedication, excellence and development in their professional, philanthropic and personal endeavors.
He has been a speaker and presenter for several occasions. He was the keynote speaker at his former elementary school in Puruarán, Michoacán, Mexico in 2016. He was the co-keynote speaker at the Chicanx Latinx Graduation at CSUEB in 2017. Keynote student speaker at San Jose State University Undocu Welcome Day in 2017. In May of 2018, 2019, 2022, and 2023, Miguel was the Co-MC for the Chicanx Latinx Graduation Celebration at CSUEB. Miguel has presented workshops in high schools, colleges and universities, and conferences on numerous occasions in regards to undocumented/AB 540/DACA students. He has been seen as the subject matter expert. The following are just to name a few: Financial aid options for AB 540/Undocumented/DACA students. Senior Financial Aid Night, Sequoia High School, Redwood City, CA. My Personal, Academic, and Professional Success and best practices to support undocumented students. Hispanic Education Conference (HEC). Modesto Junior College, Modesto, CA. Supporting Undocumented Students in Schools: Reflections of Training Strategies for Counselors, Western Association for Counselor Education and Supervision (WACES) 2022 Conference, Portland, OR. My Personal, Academic, and Professional Success and best practices to support undocumented and Latinx students, University of Washington, Seattle, WA. Advising Undocumented/AB 540/DACA Students at CSUEB, Undocumented Student Week of Action, California State University, East Bay, Hayward, CA. Access for All Students: Supporting Undocumented/AB 540 Students Pursuing Higher Education, CSU Counselor Conference, San Jose, CA.
Miguel served as the Academic Counselor for the Sophomore Transition Enrichment Program (STEP) at CSUEB for about two years. STEP was a grant funded program through the U.S Department of Education that lasted for five years. Once the grant ended, Miguel left the university and worked as a Mental Health Clinician/Counselor at La Familia Counseling Services with the Unaccompanied Immigrant Youth (UIY) Care Team Department. At La Familia, Miguel provided short-term mental health services to Unaccompanied Immigrant Youth and Children of Migrant Families at a high school in East Oakland. Miguel went back to CSUEB and served as the Coordinator for the Undocumented Student Resource Center (USRC) where he provided guidance and services to undocumented/AB 540/DACA students. Currently Miguel serves as the Dream Center Coordinator for the Dream Center at Las Positas Community College where he is continuing the work to provide services for undocumented community college students. In addition to his role at Las Positas College, he is a Part-time faculty member in the Department of Educational Psychology- School Counseling Master's Degree Program at CSUEB where he teaches school counseling courses to future school counselors/therapists to work in K-12, higher education, and mental health settings.