About the Poetry Center
The Las Positas College Poetry Center cultivates the appreciation of poetry and promotes an active poetry community on campus and in the Tri-Valley. Here you can find information about events, such as the annual LPC Campus Poetry Slam, as well as writing and performances by student and professional poets, suggestions about how to read and write about poetry, and connections to poetry resources in the Tri-Valley and greater Bay Area.
Reading, Writing, and Talking About Poetry
Learning to understand and appreciate poetry can be process of reading and re-reading poems from various angles, and there are a few tips and tricks that can help – whether you're looking at poems for your own interest, or for a class assignment!
The LPC Campus Slam
The LPC Poetry Slam has been held every spring since 2003, with a notable range of host poets, including Bay Area slam pros Ekabhumi, Jamie Kennedy, Lucky Sevan, Jason Bayani, Bri Blue, Jaz Sufi, and many others. See hosts and student performers in action on our Las Positas Poetry Center YouTube Channel. The slam has been made possible by annual grants from the Milanese Family Fund and other sources.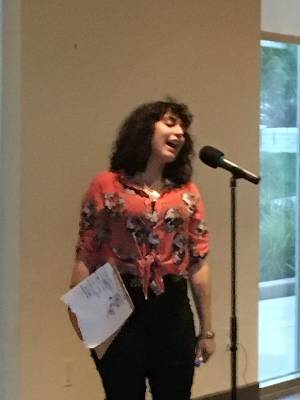 Poetry Club
The student-run Poetry Club is active on campus, and in Fall 2018 meets weekly on Mondays at 3:30 in Room 1008. The club plans events, shares and discusses student writing, and organizes field trips to Bay Area poetry events. Come to a meeting to learn more!
English 13
The Craft of Writing Poetry, English 13, is offered at Las Positas in the spring semester, and has traditionally been the "home" of the poetry slam, as students have a chance to compose and hone their performance poems in the class, and help organize the event. English 13 students also often revise work to submit to the LPC Literary Anthology, published every spring.