Reading Fiction
Reading Fiction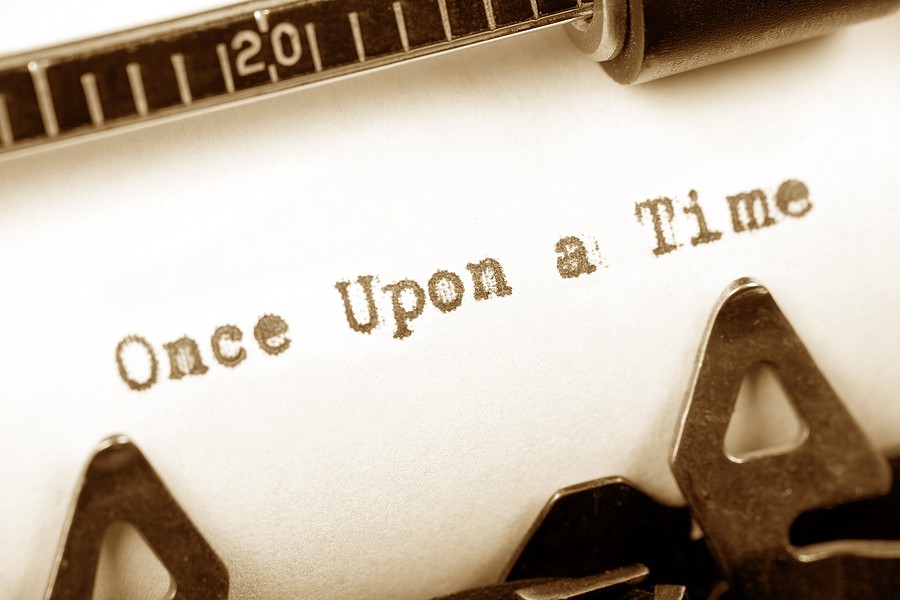 Reading Fiction: Common Characteristics to Help Guide Your Reading
Types of Fictional Texts
Novels are book-length works that tell a story through themes, plot, and characterization. The major purpose of a novel is to entertain the reader and/or cause the reader to reflect on the themes addressed in the novel.
Novellas are similar to novels, but they are not as long. They are longer than a short story but shorter than a novel.
Short stories are shorter works of fiction that tell a story through themes, plot and characterization; however, they may be limited in their plot and character development, and the setting may be limited to one or two places in which the story takes place.
Poems are works of fiction that may or may not follow a rhythmic pattern, also know as "verse." They are often meant to be read aloud or performed. For more on poetry, explore our page on reading poetry.
Drama, also known as a play, is a work of fiction that is meant to be preformed. It is presented as dialogue and stage directions. For more on drama, explore our page or reading dramatic works.


Novels vs. Short Stories: What's the difference?
In an English class, such as English 4, you will most likely be reading a variety of types of fictional texts, especially novels and short stories. Besides the length, there are quite a few differences between short stories and novels. It is important to mention that short stories are not simply really long stories. Here are some of the differences:
Novels vs. Short Stories

| Characteristics | Novels | Short Stories |
| --- | --- | --- |
| Length | The average novel ranges between 55,000 to 300,000 words. | Most short stories range between 1,500 to 30,000 words. |
| Plot | Novels often follow a narrative arch, where everything helps lead up to the climax of the story; however, there can be twists and turn along the way. Moreover, There may be sub-plots developing along side the main plot of the story. | Short stories tend to have a tight plot and one climactic moment. Every sentence helps lead us to this. |
| Characters | Novels tend to have more room to explore and add depth to more characters. | Short stories often focus on fewer characters. There may only be one or two characters that are fully developed. |
| Setting and Time Span | Novels often contain several settings in which events take place. Sometimes, each chapter can have a different setting. Also, a novel may move in between the past, present, and future. They may also follow the development of a character over a long period of time. | Short stories tend to have less settings or even a single setting. They also tend to cover a brief period of time. They can be seen as a snapshot in time whereas a novel is like a movie. |
Your Turn
Before you start reading, identify what type of fictional text you are working with. Think about how the length of the text tells you about what you might expect in terms of plot, setting, and character development. Take some time to get a sense of the style and tone of the text and if the author uses prose (ordinary sentence form) or verse ( poetic, rhythmic structure) .
Reading Fiction: Common Characteristics to Help Guide Your Reading
Below, you will find the common characteristics of fictional texts as well as activities to help guide your reading. Have your text and a pen or pencil and a notepad ready to take notes.
Why read fiction?
For a more in-depth exploration of what sets fiction apart from nonfiction texts, take a look at an essay written by Michael Sato, LPC English Faculty.
Plot
The plot is like the "So what?" of the story. It keeps the reader engaged and wanting to know how things will develop and resolve. You can think of it as the overarching framework for the story, or a narrative arch. A plot helps the reader understand the character's choices and actions, which helps us feel more connected to them. Below you will find the *typical plot structure for a dramatic work and details on each aspect.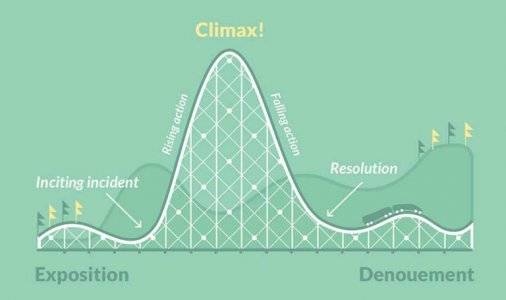 Exposition: You can think of this as setting the scene. In the first part of the story, you get a sense of the setting, when the story is taking place, and the characters.
Inciting Incident: This is the most important part of the narrative arch. Without this, there is no reason to continue reading. It can be seen as a source of tension, an event or conversation, that propells the story foward. Take for example the movie The Lion King. The inciting incident in this movie is when Scar kills his brother, Mufasa. The serves as the reason for Simba to take over the Pride Lands, leading us into the rising action and the climax.
Rising Action: These are the series of events that occur after the inciting incident that create suspense and tension leading up to the climax.
Climax: This is when the conflict and tension reaches its highest point. This is the turning point in which the rising action turns into the falling action.
Falling Action: The story begins its descent, and the original tension that drove the story begins to decrease, guiding the reader into the resolution stage.
Resolution ( Denouement): This the final part of the narrative when everything comes together and any tensions are resolved. However, sequels tend not to fully resolve. There is often the introduction of another inciting incident.
* In a novel, there could be more than one of each of these stages. Also, not all stories will follow this narrative arch. A story may also have multiple plots developing at the same time. Moreover, a writer may jump between these different stages or move foward or backward in time, thus distrupting the traditional narrative arch.
Your Turn
As you read, try to identify the different essential elements to the story's plot. Label them as you go, or draw a narrative arch, like the one above, on a seperate piece of paper.
Setting
The setting is like the backdrop of the story. This both refers to the geographical location as well as when the story takes place. It is an essential part of the structure of the story; it can help the reader build context, or background knowledge, as the story unfolds. Take some time to pay close attention to just the setting of your text. Below, you will find questions to help guide you.
Your Turn
As you pay close attention to the setting, have a pen or pencil and a notepad ready to jot down notes, or write in the margins of your text:
Take a moment to see where the story takes place. Do a little research on this location if you can. Also, note if there are multiple locations. What did you learn about the location(s)?

What do you notice about when this story takes place? Does it take place in past, present, or future?

If it is set in the past, do you think there is any social, cultural, or historical significance to this choice?

If it is set in the future, why do you think the author chose to do so?
Characters
All literary characters can usually be categorized according to the following:
Primary: These are the main characters, playing a larger role in the stories development. They may make decisions that hold more weight, and they tend to be the most developed and have more depth.
Secondary: These are reoccoruing characters that hold less importance though they still may play an important role in the plot development. However, they tend not to be as developed as primary characters.
Tertiary: These characters may only appear once for a specific purpose. They may have limited dialogue or no dialogue at all, and they may be refered to with a more generic name, such as "grocery store clerk," "doctor," or "student."
Protagonist: This is the leading, most prominant character in a fictional work. The narrative centers around them.
Antagonist: The antagonist can be a character, or a group of characters, that are in opposition with the protagonist. They are their competitor or advesary. They challenge the protagonist in some way, and they are essential to the protagonist's character development. They may threaten them physically, or they may challenge them on a deeper level, such as spiritually or emotionally.
Foil: This is a character, usually a secondary character, that contrasts with another character, usually the main character. A foil is used to highlight traits of the main character. Often times, the antagonist is seen as a foil to the protagonist.
Your Turn
Keep a pen or pencil and a notepad handy as you work through the following questions:
As you read and are introduced to the characters, try to identify what type of character they are (primary, secondary, tertiary, foil, protagonist, or antagonist). What does this tell you about the role they play in the plot's development? What are their motives? Consider keeping a character list on a notepad or written in the front of the book.

If you notice characters that are foils for one another, why do you think that the author chose for these characters to contrast one another?
Literary Devices: Messages Hiding in Plain Sight
Authors often draw from several literary devises to add a deeper meaning and complexity to their text. Below are several common literary devises you may come accross as you read.
Simile
A similie is a figure of speech comparing two seemingly different things often using "like" or "as" in order to make this comparison more memorable and powerful.
Example:
The following passage from The Sun Also Rises, by Ernest Hemingway, uses a simile: "
The café was like a battleship stripped for action."
Hemingway adds description and depth to the cafe by likening it to a batteship. He does not literaly mean that the cafe is a battleship.
Metaphor
A metaphor is another figure of speech in which a word or phrase is applied to something else that cannot be literary applicable. Like similies, this can make an idea or message more vivid and memorable. If someone said that you are a night owl, they do not literally mean you are one; you just like to be up late at night.
Example:
The following passage from the short story "Sonny's Blues", by James Baldwin, uses a mataphor to add depth and description:
"These boys, now, living as we'd been living then, they were growing up with a rush and their heads bumped abruptly against the low ceiling of their actual possibilities."
The boys did not literaly bump their heads against the ceiling. What do you think Baldwin is trying to say about the boys with this metaphor?
Allegory
An allegory can be seen as an extended metaphor that develops over the course of the poem, play, or novel. It is an underlying message beyond the initial message of the text, often moral or political.
Example:
Think of the movie Wall-E . The last robot left on earth, Wall-E, lonely and in need of a companion, spends his days tidying up planet earth until EVE comes along. She was sent to find proof of life. Wall-E falls in love with EVE. The surface level meaning of the film can be seen as the importance of love and companionship. However, the movie, Wall -E, can be seen as an allegory for our need to save the earth from all of the damage we inflict upon it.
Symbolism
Symbolism occurs when a word, figures of speech, object, person, or a situation that takes on another meaning other than its literal one. Allegories and other literary devises often draw from symbolism.
Example:
Throughout Cormac McCarthy's The Road, set in a post-apocolyptic world, a father and son try to survive. The father tells his son throughout the novel that "...we're carrying the fire." Now beyond it's literal meaning, fire can be seen as symbolic of many things, such as hope for humanity when all hope seems lost, the will to live , and human goodness in a volitile and dangerous landscape.
Imagery
Imagery is vivid and descriptive language, used to help paint a picture for the reader or even to make a metaphor, similie, or symbol more memorable. They often draw from the five sense: touch, taste, sight, smell, and hearing.
Example:
Drawing again from Cormac McCarthy's The Road, McCarthy uses vivid, descriptive language to help set the scene for the reader:
"Ash moving over the road and the sagging hands of blind wire strung from the blackened lightpoles whining thinly in the wind. A burned house in a clearing and beyond that a reach of meadowlands stark and gray and a raw red mudbank where a roadworks lay beyond. Farther along were billboards advertising motels. Everything as it once has been save faded and weathered."
Take note of McCarthy's use of descriptive language. He wants you to imagine the landscape the characters are trying to navigate.
Your Turn
Use these questions to help guide you as you read. Annotation is very helpful for the following activity. Have a pen or pencil and a notepad ready to jot down notes:
With a particular passage in mind, and if you feel like you have a simile or metaphor, given the circumstances in the text, could what the author is saying be literally true? What do you think is the true meaning of the passage?

As you read, take note of any reoccuring objects, people, or ideas. Pay particular attention to how this object, person, or idea is described. Do some research to see if this object, person, or idea has an historical or cultural significance.

Pay particular attention to the characters and thier behavior, personality, and appearance. What conclusions can you draw from this information? Do you think they may be symbolic of something larger?

Pay attention to how the author describes the setting and objects around the characters. What can you gather about the story from these descriptions? What type of tone do these descriptions set? What can we learn about the characters from these descriptions?

Looking at the text as a whole, do you feel that this text may be an allegory, or an extended metaphor, and, therefore, contain a message that goes beyond the obvious? What do you think is the larger message of the story?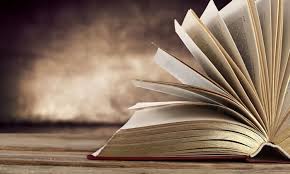 This page was created by Megan Garcia and Mike Sato.