Search Directory
Las Positas College Directory
Faculty & Staff Profile Help
The Las Positas College campus directory is being upgraded to Faculty & Staff profiles. Faculty, Staff, and Administrators will have their own webpage (see sample below). At minimum, the profile will will have the following information:
Name
Department
Phone Number
Email
Office/Room Number
Office Hours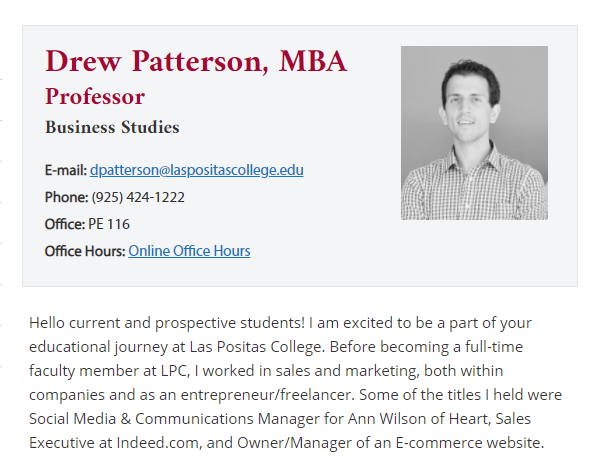 The Office Hours link may be linked to your online office hours using Zoom.
Your photograph and bio are optional. The Bio section can be completely hidden from your profile page.
How do I get access to my profile page?
Please us the Profiles Help Form to request access or training.
How do I update my online office hours?
If you do not have access to your profile, but would like your office hours updated, please use the Profile Help Form. Please paste your Office Hours link into the Office Hours field (example below).

How do I update my photo?
Please email tdruley@laspositascollege.edu a with your photo attached. Please use the subject Profile Photo in your email.