Augmented Reality Sandbox
Augmented Reality Sandbox
The Las Positas College Augmented Reality Sandbox makes learning maps MAGIC!
Utilizing software originally developed by Dr. Oliver Kreylos, and his team at UC Davis, using a National Science Foundation grant, the AR Sandbox gives users a real-time tool for learning about Geologic land forms and topographic maps. The user creates hills and valleys with the sand. The Kinect and projector system work together to create an accurate 3D map, applying topo lines and colors to show relative elevations. Other features include the ability to make it 'rain' by holding one's hand out over the sand and watching the 'rain' flow to the low spots. The refresh rate is fast, and the user can constantly change the landforms, and see in real time alterations in both color and topo lines.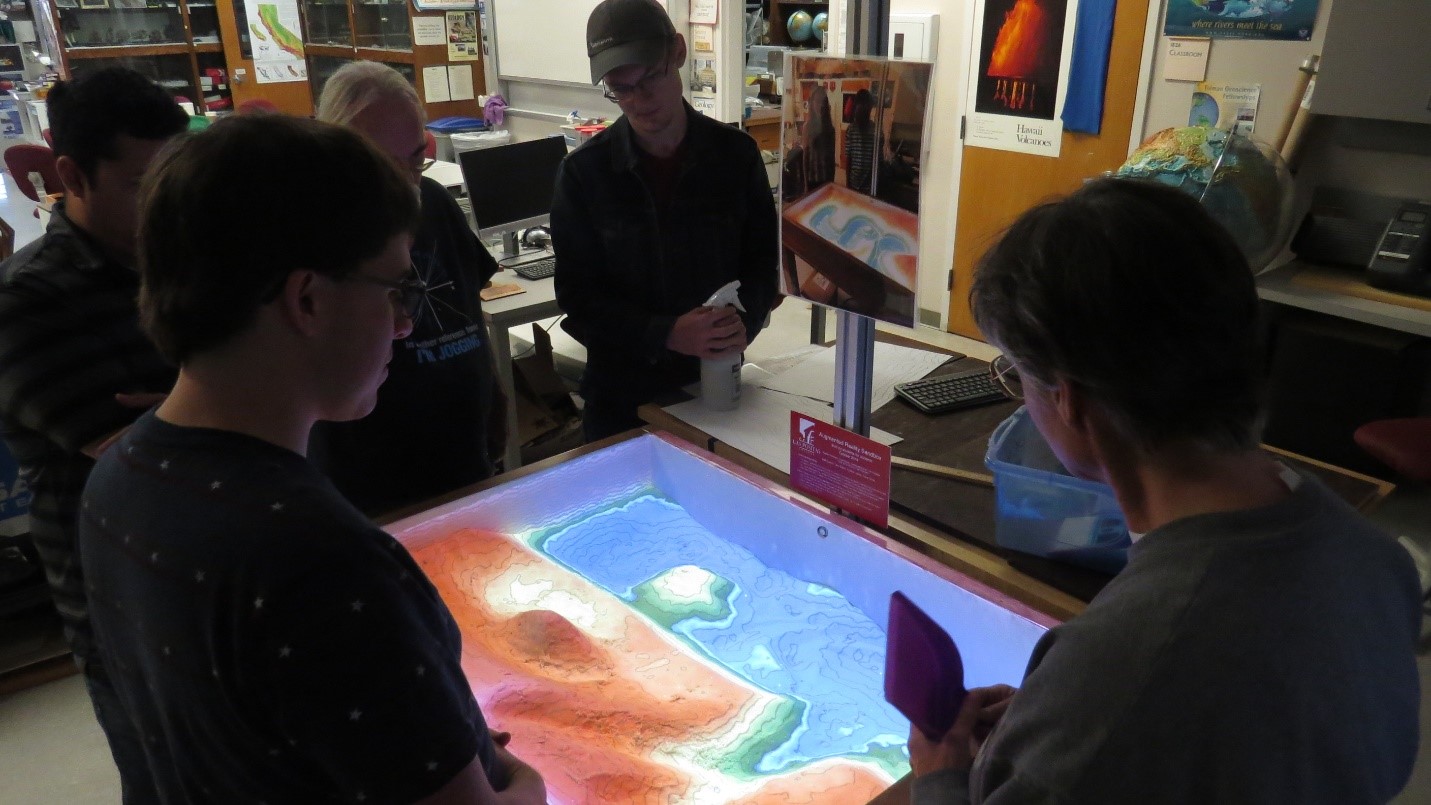 Here instructor Ruth Hanna models a shoreline with a headland and a bay.
This beautiful teaching tool is valuable in Geology, Geography, Environmental Science, and more. The fun of experimenting- and getting real time feedback- is a delightful way to understand topographic maps on a deeper level. The sheer beauty and compelling colors- plus the tactile experience of creating different shapes, and seeing how the image changes- encourages experimentation, and makes for memorable and unique learning.
Cycle Grant: Augmented Reality Sandbox
This is the build team, Yosef Mirsky (now at SJSU), Ashley McDaniel, (now at UC Riverside) and Will Kossow, here at LPC.
Carol Edson applied for multiple grants to make this a reality. Dean Nan Ho, of the STEM division, provided seed money. CARE, the retired employees group, provided funding for the Sandtastik sand. The Geology department annual supply budget contributed to the purchase of the materials for construction, as well. And the biggie was when Carol received one of the coveted LPC Foundation Cycle Grants for use purchasing the short throw projector and computer motherboard, etc, allowing the student build team to assemble the computer to run this special software on Linux. We are so grateful for all the financial support that let us make this a reality.
An augmented reality sandbox combines a real sandbox with virtual topography and water. It does so by using a closed loop of a Microsoft 3D camera, powerful simulation and visualization software, and a data projector. The augmented reality sandbox allows users to create topography models by shaping real sand, which is then augmented in real time by an elevation color map, topographic contour lines, and simulated water. The system teaches geographic, geologic, and hydro-logic concepts such as how to read a topography map, the meaning of contour lines, watersheds, catchment areas, levees, and much more. The open-source software was designed by a team of scientists at the University of California, Davis.