Aaron De La Cruz Fruits of Labor

Fruits of Labor, 2021
Aaron De La Cruz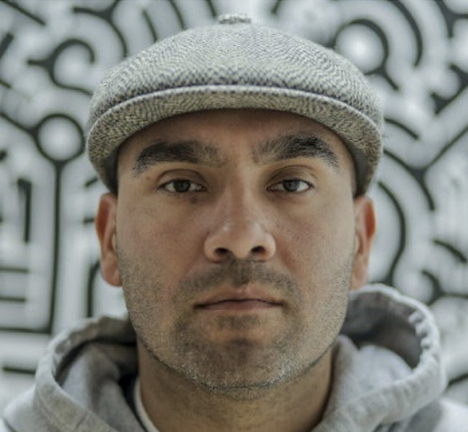 Aaron De La Cruz is a Bay Area artist influenced by family, graffiti and skateboard
culture of Fresno, California in the late 1980's - mid 1990's. In this honest and familiar expression, Aaron opens an abstract world of movement and space that is woven with personal connections. His work is featured all over the world, from Hong Kong to Los Angeles.
Fruits of Labor features De La Cruz's distinctive black and white interlocking marks interspersed with pops of brightly colored circles. The piece, which at first glance seems precise and geometric, comes to life upon closer inspection. Fruits of Labor features drips, brushstrokes, and lines that lend the piece the dynamism of human touch. This style of Aaron's work is influenced by the Mexican serape, a hand-woven colorful blanket often striped and patterned.
Inspired by LPC's Latino population, the view around the school, and the virtue of hard work, the piece is unique to LPC and captures the spirit and history of our campus community. The vertical and horizontal interweaving lines also take their inspiration from the surrounding vineyards. The circles are meant to resemble growing grapes, while the various colors represent the natural components around the college.
The Art on Campus Task Force commissioned De La Cruz to paint Fruits of Labor after conducting a search for local muralists. Shortly after it was approved by the Chabot-Las Positas Community College Board of Trustees, work on the mural began. The piece was completed in June of 2021.
Date: 2021
Type: Acrylics
Credit: Nike Site Funds, CLPCCD's Board of Trustees, Art on Campus Task Force
Location: B1600