Welcome to the Chemistry Department Website!
Welcome to the Las Positas College Chemistry Department Website.
The goal of this web site is to provide information about the Chemistry program at Las Positas College including its faculty and staff, to answer questions you might have about Chemistry, and to provide links to interesting Chemistry websites. If you wish more information or have suggestions as to additional items that might be included on this site, please contact us by email or phone.
Explore the LPC Library's Chemistry Resouce Guide to find books, links, and the ACS Style guide for papers.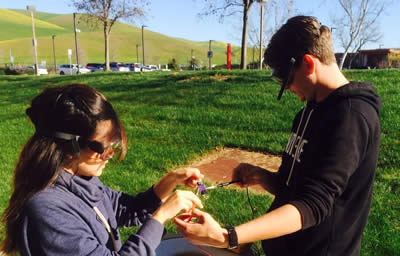 Chemistry 1B students Ashley Kim and Brett Bormann trying out a solar cell made in lab with raspberry dye.
Interested in becoming a Science teacher?
Here are pathways to becoming a High School or Middle School Science Teacher
Chemistry Tutoring -
Tutoring is available for LPC Students in the Tutorial Center Online during the Fall and Spring semesters.