Extended Opportunity Programs & Services
Welcome to Extended Opportunity Programs & Services & NextUp
OUR OFFICE IS CLOSED 11/22-11/24 FOR THANKSGIVING BREAK
Las Positas College's Extended Opportunity Programs and Services (EOPS) ensures that students disadvantaged by social, economic, educational or linguistic barriers get the resources they need to enroll and succeed at any California community college.
EOPS is a support program available for the full-time student who can benefit from a variety of extra services that promote academic success and personal growth.
NextUp provides community college students like you with resources that make a difference. The program offers eligible current and former foster youth support and services that could include help with books and supplies, transportation, tutoring, food and emergency housing.
---
Please CLICK HERE for eligibility and application instructions.
Contact Us:
Call our office: (925) 424-1590
Send us an email: lpc-eops@laspositascollege.edu
Stop by our office: Building 1600, Room 1668 (2nd Floor)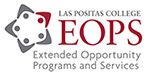 EOPS/CARE Office
Building 1600
2nd Floor
Room 1668
lpc-eops@laspositascollege.edu
(925) 424-1590
Fax: 925.606.8967

Office Hours:*

In-Person/Office Hours

Tuesday
9:00 am – 7:00 pm
Wednesday
9:00 am – 5:00 pm
Thursday
9:00 am – 5:00 pm


*Office hours are subject to change.