Daniel Cearley
Anthropology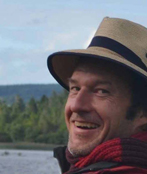 I am the program coordinator for the Anthropology and Drone Technology programs. I enjoy teaching and bringing my own unique and varied experience into the classroom. As an undergraduate, I worked closely with the Ohlone Muwekma tribe in San Jose as an archaeologist. This experience showed how archaeology can play an active role in contemporary issues and led to a position on a forensic anthropology team investigating genocide in Guatemala. In this position I learned how anthropology can contribute to societal reconciliation, and gather evidence for the eventual prosecution of former dictators.
I firmly believe that learning is most effective when we are actively involved in the process. To this end, I am constantly seeking ways to create opportunities for students on-campus, in the wider San Francisco Bay Area, and internationally. I am currently an active member of the San Francisco Bay Area Cultural Landscape Research Group, partnering with Mid-Peninsula Open Space and Stanford University. In the summers I act as a project director of the Castles in Communities anthropological field program in Ireland.
My research interests include California pre-history, colonialism, state violence, post-war reconciliation, and human rights. I continue to learn by taking courses and learning GIS, laser surveys, landscape analysis, and geophysical surveys.
MA in Anthropology, San Francisco State University (2002)
BA in Anthropology, San Jose State University (1996)
I am available in-person and online, please review my office hours below.