Lucas (L. W.) Hasten
Anthropology
Lucas (L. W.) Hasten
Professor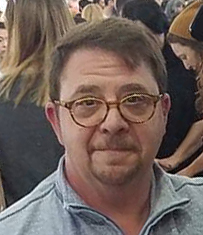 Lucas Hasten has overseen the Anthropology Program since Spring 2004, when he joined the faculty as a full-time instructor. He earned his graduate degree from Columbia University in the City of New York, where his studies were centered on cultural anthropology. He has since grown fond of the biological side of the discipline, having taught the introductory course from the beginning. He is happy to be teaching community college, where he feels he can have the greatest impact on the lives of his students. He is an empathetic and supportive instructor whose primary goal is the success of his students.
Lucas's areas of interest include gender studies, comparative mythology, historical linguistics, evolutionary psychology, and hominin evolution. He considers himself a teacher first, and an anthropologist second; under his guidance, the Anthropology Program has more than tripled in size.
With a past as a musician and recording engineer, Lucas's educational videos have garnered over 100K views. Aside from teaching, he loves to travel, shoot landscape photos, write, and eat spicy food. He also enjoys a good laugh and any opportunity to wear a sweater.