Vineyard
Campus Hill Vineyard
The Campus Hill Vineyard is a 4 acre hillside vineyard located at the Campus Hill Drive entrance to Las Positas College, within the historic Livermore Valley A.V.A.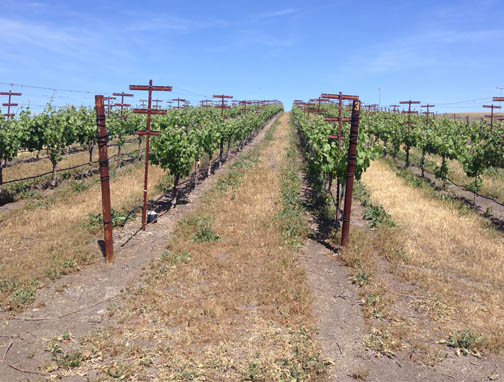 Grape varieties grown include: Albariño, Graciano, Grenache, Malbec, Sauvignon Blanc, Syrah, Tempranillo, Touriga Nacional, and Viognier.
The majority of vines are bilateral cordon, spur pruned, and trained on a modified "VSP" trellis. The spacing is 8 X 5. We also have 125 vines of head trained, spur pruned Sauvignon Blanc giving our students exposure to different approaches to winegrowing.
Viticultural students gain hands-on experience in Fall, Spring and Summer vineyard operations. Students learn about vineyard floor management, irrigation, canopy management, integrated pest management, bird control, pruning and harvest.
Grapes grown from the Campus Hills Estate vineyard are harvested to produce student-made wine. The revenue generated from wine and grape sales help cover operational costs for the Viticulture and Winery Technology program and winery.
For more information please contact:
campushillwinery@laspositascollege.edu

Email Winery
925-424-1840

Room 806
Building 800
Las Positas College

Open for wine sales
First Thursday of Month
12-5pm