Canvas Studio
Canvas Studio is an integrated video application to use within your Canvas courses. Instructors can use it for embedding videos into Pages, Assignments, Discussions and Quizzes. Videos and screen recordings can be created within courses, or you can upload your previously created videos and even add a video from YouTube. Captioning is done within Studio.
Benefits of Canvas Studio
Teachers
Students

Host and deliver audio and video content
Encourage active engagement in course media content through commenting
Direct students to key points or moments for emphasis
Monitor student viewing behavior and interactivity
Facilitate class discussion
Assess students through video quizzing
Add real-time feedback to student video submissions

Access course media content across platforms and devices
Interact in course media content by using comments to ask questions and share insights
Provide video evidence of learning
View a video demo of Studio as an instructor.
View tutorials on some of its main features:
To learn all of the functions and features of Studio, view the Canvas Studio Guides.

The advantage of Studio lies in its ability to make teaching with video interactive and collaborative. Studio gives you control to pause a video at any point to add a comment(s) or question(s), and students can engage with those comments and questions. Instructors can create quizzes within Studio.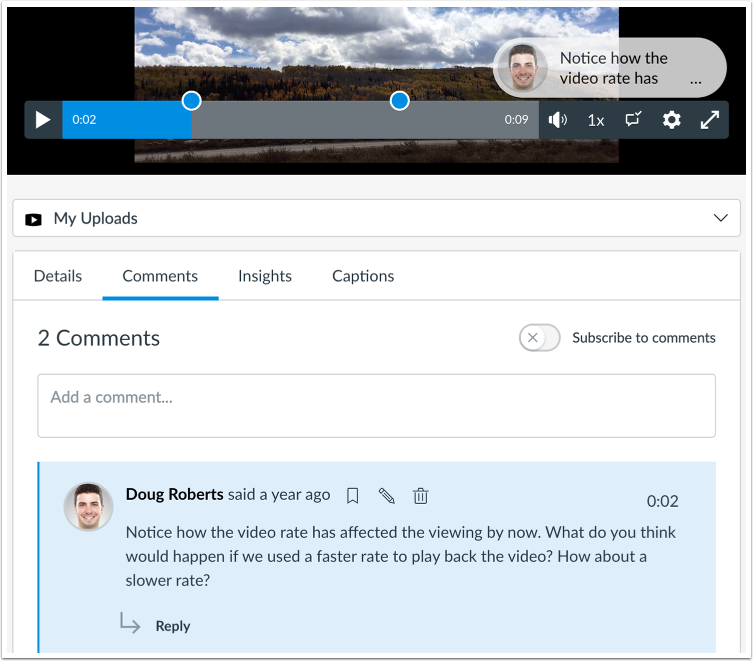 Tip to instructors about comments:
If you let students use Studio for a discussion assignment and want to easily grade students in the Speedgrader, tell students to disable comments on their videos. This way, students are forced to reply by clicking Reply and typing a response. Then, in the Speedgrader, you will see all of a student's posts when you grade that student. If comments on videos are enabled, you will have to hunt for comments while grading.


Studio also offers analytics that allow instructors to see who has or hasn't watched your videos and which parts were viewed the most.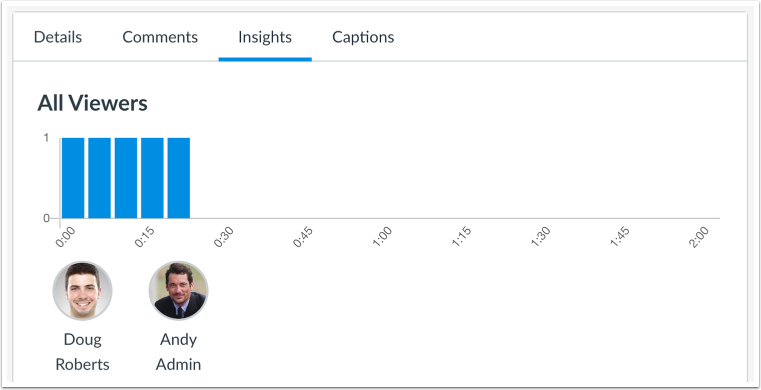 Tip to instructors about these analytics, which can be viewed under Insights:
If you have merged sections into one Canvas course, you won't be able to see data for all students unless you do it from the Studio icon in the global navigation menu. When you go there, click the hamburger menu (the three lines) at the top left next to My Library. Click the course for which you want to view Insights, then select the specific video. You will then be able to see data for all students.
Close Captioning
Studio automatically captions uploaded videos with an accuracy rate of 85%, according Canvas. You will have to edit the captions to make sure they are 100% accurate. Learn how to edit captions.
Captioning YouTube videos and instructor-created videos hosted by 3C Media in Studio takes a few additional steps. View Captioning YouTube, 3C Media Videos in Studio.
Video Editing in Studio
Studio allows you to edit video in a couple of different ways. The first is a very basic editor that allows you to trim the beginning and end of a video. The second is more advanced and is done through the Record - Screen Capture tool. This advanced tool is essentially ScreenPal, and there are a variety of editing tools within it.