Teacher Mobile App
Canvas Teacher App

The Canvas Teacher App allows teachers to manage their Canvas courses from a mobile device. This is a general overview of the app because there are a couple of different features depending on if you're using an Android or iOS device.
Here are links to App guides provided by Canvas:
Link to Mobile Guide for Android - Canvas Teacher App
Link to Mobile Guide for iOS - Canvas Teacher App
The mobile app allows you to quickly access, update, grade, and communicate on the following:
Announcements
Assignments
Discussions
Quizzes
Conversations (Email)
People
Files
Upon opening the app you, tap "Find my school", start typing Las Positas, and a list will populate the screen. Swipe-up on the list and tap Las Positas College. Log in with your W# and password.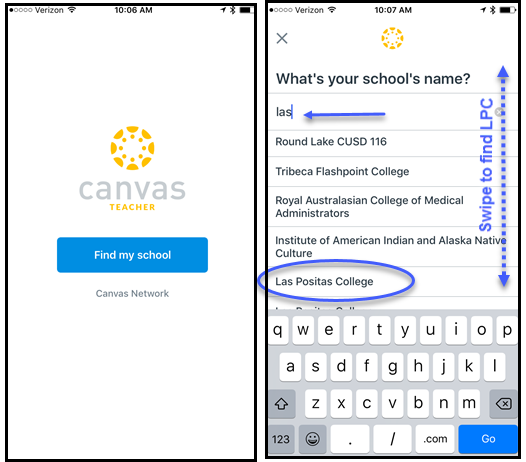 You will see your Dashboard with all your current courses. To view more or previous courses, tapo "See All". You can add or remove courses to your Dashboad by tapping the corresponding star.
There are quick links on the bottom of the screen to your "Courses", to your "To Do" list of items, and to your "Inbox".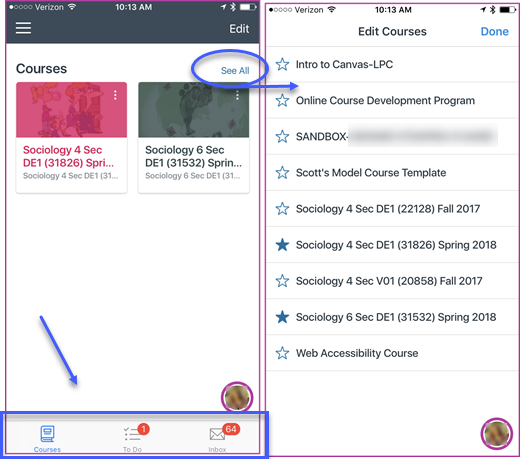 Selecting a course to open will bring you to the course navigation window where you will select the content you want to work on. This example shows tapping on Assignments, which opens a list of all graded assignment types, including discussions and quizzes. Here you can scroll up and down to go through the list and tap what you want to open.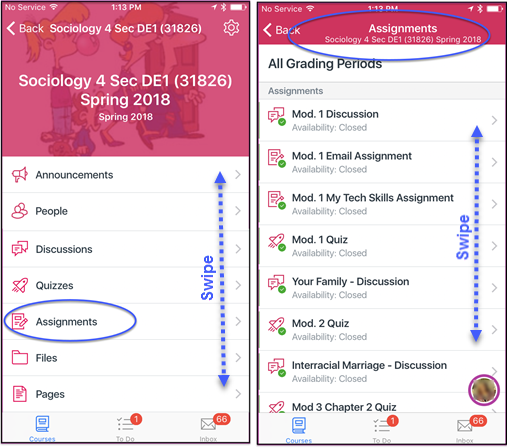 By choosing an assignment to open, you will see a screen that will allow you to view the details of the assignment. Tapping "Edit" will bring up the editing window. The circular buttons will also open windows for grading and communicating with students regarding this specific assignment, if needed. Follow this link for more details on grading and annotating an Assignment.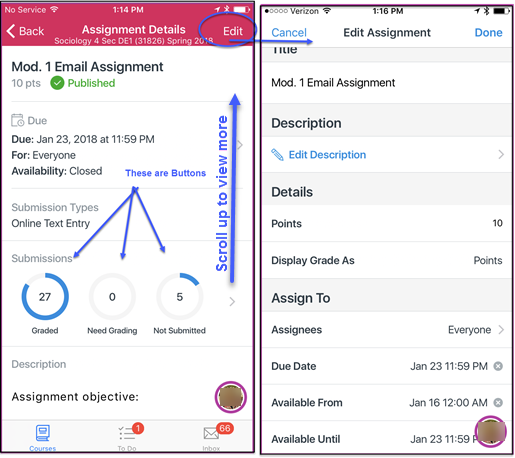 Tapping on the circular button "Not Submitted", you can view the 5 students that have not submitted their assignments. You can tap on the email icon and send a message to these students. Note: You cannot create new assingments on the app.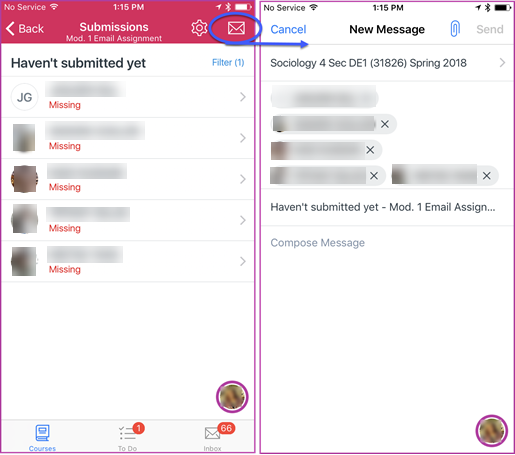 Grading assignments, quizzes, and discussions can be accomplished multiple ways. By tapping "To Do", the app will show a screen of items notifing you of what needs to be graded and how many.
Tapping an assignment will show a student's work to be graded, and tapping "Grades" pops up a small window. In the grade field , enter a score for the student. If you want to excuse the student from the assignment, tap "Excuse Student". Tap the OK when finished. Swipe the screen to view the next student's assignment. You can also add a "Comment" to the student about their work.
Example 1: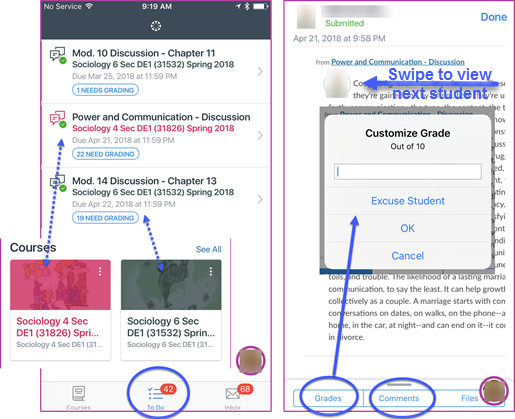 Within a course, you can grade by tapping an assignment to view details that show how many need grading. Tap "Need Grading", and a list of your students opens showing who needs grading. Then follow the same procedure as above.
Example 2: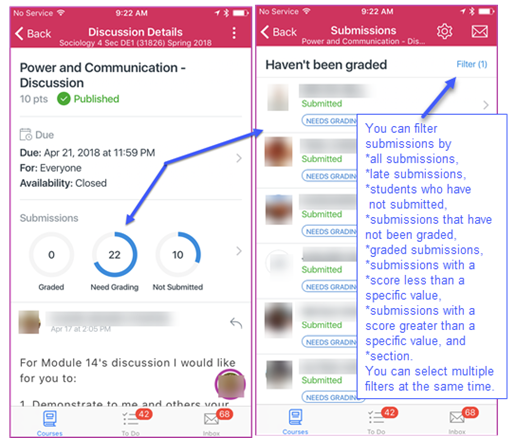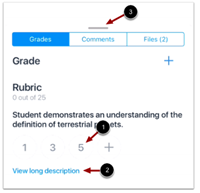 If you added a rubric to your assignment, you can use the rubric to score the student's submission. To view the rubric short rating summary, tap and hold the rating number [1]. To view the long description, if any, tap "View long description" [2]. To view multiple criteria in the rubric, you can adjust the height of the grades window by tapping and holding the menu bar [3].
Creating new documents within the app is only possible for Pages, Discussions, and Announcements. Tapping the "+" symbol will open a window similar to the Rich Content Editor. Here you will also find features specific to the content you are creating.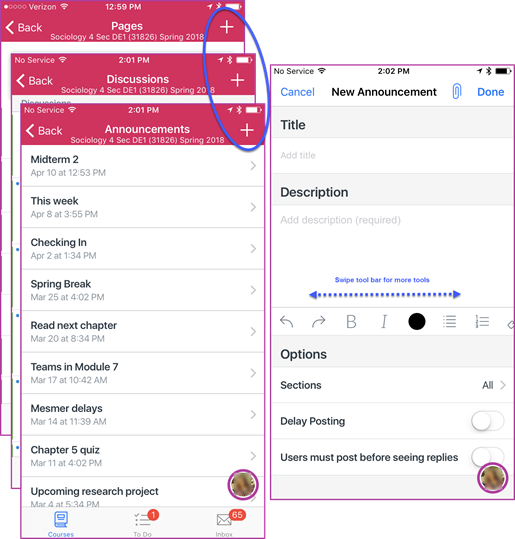 You will find this app helpful when you need to handle something on the go, have an idea to get started on and finish later on a computer, email, and/or make an announcement to your class. For more information or support, contact Wanda Butterly at wbutterly@laspositascollege.edu.