HyFlex Training
HyFlex Training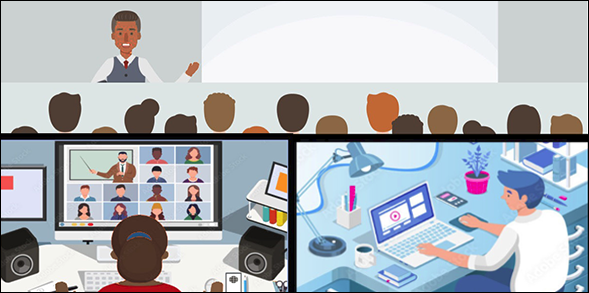 LPC offers training to faculty interested in teaching HyFlex classes. The training was adapted, with permission, from workshops that Dr. Brian Beatty conducted for LPC faculty in late 2021. Dr. Beatty is an Associate Professor of Instructional Technologies in the Department of Equity, Leadership Studies and Instructional Technologies at San Francisco State University. He is one of the founders and leading practitioners of the HyFlex teaching method.
Here is the official LPC definition of HyFlex as adopted by the DE Committee in January 2022:
A HyFlex (Hybrid Flexible) course allows students the choice of attending class on campus or online. Online modalities may include synchronous online, and/or asynchronous online instruction.
At LPC, faculty participate in a four-week series of trainings:
Week 1: Introduction to HyFlex and Getting Started with Course Design
Week 2: Content Planning and Assessment
Week 3: Engaging Learners
Week 4: Classroom Technology
The workshops are delivered as HyFlex; in other words, faculty can participate live in the college's Teaching and Learning Center, live synchronously via Zoom, or asynchronously in Canvas. Depending on the participation mode selected, faculty will participate in the weekly live sessions or watch the recording later. They will then interact with their colleagues in the Discussions area of the HyFlex Training Course in Canvas, where they will be responsible for a main post to the weekly prompt and at least one reply to one of their peers.
Each of the four training sessions is one hour long. Participation is tracked, so even if faculty arrive late to a live session, they will have to watch the parts they missed later.
Within the HyFlex Training Course in Canvas, there are resources that faculty can view in the General HyFlex Resources module, as well as optional worksheets and quizzes to complete. The course is set up in a modular design for all users, particularly those participating asynchronously online. Each Module Wrap-Up page also contains links to more information about that week's topic.
Faculty will be notified when training becomes available. Successful finishers will earn a digital badge of completion.