Ashley McHale
Ashley McHale
Professor
Spring 2023: Teaching Statistics and Concurrent Support

All office hours are also virtual. Click the zoom link above to join!
Mondays 12:15 pm - 1:55 pm virtual only
Tuesdays 3:15 pm - 4:00 pm in room 600
Wednesdays 12:15 pm - 1:55 pm in 240-E

Also by appointment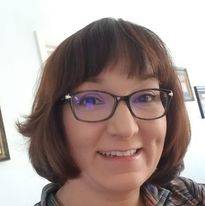 Hello!
I'm so glad you found me!
Get in Touch With Me:
See office hours above!
Check out my website, which houses my course syllabi and a lot of resources for students! I am also a Math Alliance Mentor.
You may wonder, how is my name pronounced? Listen to my NameBadge!
Academic and Career Pathway:
Science, Technology, Engineering, Mathematics and Environment Pathway
About Me:
Bachelor of Science, Mathematics; Elon University
Master of Science, Applied Mathematics; Texas Tech University
I firmly believe that every student must and can learn to think mathematically. I am dedicated to offering students a variety of learning supports, including utilizing brain research and growth mindset activities designed to enrich, personalize and holistically support their academic success.
I have been teaching math at the postsecondary level since 2001 and at Las Positas since 2007, including classes from prealgebra through multivariable calculus, linear algebra and discrete mathematics. In addition to teaching math, I advise the Alpha Gamma Sigma Honor Society (AGS) and Math Club at LPC. I am also the State AGS Chair of Scholarships and Awards. I have also served as the Mathematics Department Coordinator, Math Learning Center Coordinator, and Coordinator of the Basic Skills Student Outcomes and Transformations Grant (to help students accelerate through mathematics and English pathways), Basic Skills Committee Chair, and Student Equity and Achievement Committee Co-chair. Currently, my educational interests include best practices for equity of marginalized students, mathematics education for elementary students and teachers, computing in Statistics courses, and pursuing open educational resources (better known as "free textbooks") for classes.

Know where I stand*:
We are living in very unique times. From a global pandemic to social justice reform and various natural phenomena, it is hard to be okay, or to expect "normal" during this time. We are all facing challenges that we didn't expect, that we didn't plan for, that we may have no immediate solutions. Things that once were simple are not any more.
Talking helps: You are always welcome to talk to me about things that are not course-related. I am willing to be an ear to listen, should you need that.
Your experience is sacred: You NEVER need to justify your needs to me by sharing personal details. You are entitled to your privacy.
Meet me halfway: I want to support you in your learning, and the best way for me to do this is for you to communicate with me.
We are part of a village: More than ever, it takes a village of support to help each of us thrive. If I can't help you, I will do my best to connect you with someone who can.
Be brave for you: No one can better advocate for YOU than YOU can. If you need extra time, extra understanding, extra anything, please don't be afraid to ask for it.
Systemic racism must be completely eliminated: I am deeply committed to acknowledging, confronting, and actively striving to eradicate all forms of racism and ethnic oppression. Thus, my courses operate from the belief that racism is real, is present, and is something that Black, Indigenous, and all People of Color face daily. Part of my objective for my courses, therefore, is to create a safe and brave space that enables all of my students to engage openly, safely, equally, equitably, and honorably with their education. In taking my course, you are expected to do your best to embrace these values; and, while I expect that we will all make mistakes along the way, I also expect that we will work together to engage with all of our classmates and with the material through thoughtful respect of everyone and their individual perspectives.
An academic environment requires that we all demonstrate respect for the intersectional identities of everyone; this includes but is not limited to sex, socioeconomic status, ethnicity, nationality, immigration status, skin color, religion, ability, gender identity, gender expression, sexual preference, and sexual orientation. In this course, there is no room for racism, sexism, homophobia, transphobia, xenophobia, or any other form of prejudice or discrimination.
*These ideas are inspired by Professors Chris Jones, Summer Serpas, and Katie Klein Booth