Math Jam
Math Jam
Enroll in your LPC Math Class with Confidence!
Students are encouraged to enroll directly into a transfer-level course. We have a math course and support options for every learner! For information about what math courses we offer, please click here.
MATH JAM BOOTCAMP COURSES BEFORE THE SEMESTER STARTS
Award-winning, 1-week
tuition–free and materials provided!
WHY DO A MATH JAM?
Your last week of freedom before the semester starts is time well spent!! You will get individualized, 15 hours of math support on what you need to know prior to your first day of school, getting you ready for the 1st day! During Math Jam you will review prerequisite material or get a head start on the materials covered in your math class, depending on your individual background and needs.
"I reviewed more in one week than I feel like I have in any other class…. I learned much more than I thought possible, and all in all, this was a great way to spend my time before the semester started."
~ LPC student
Math Jam is the week before Fall & Spring Semesters
Daytime, Evening, In-Person, and Hyflex & Virtual
FREE FOOD & MATERIALS!
CONCURRENT SUPPORT COURSES DURING THE SEMESTER
NEW! Jam all semester long with
RECOMMENDED support during the semester.
WHY DO CONCURRENT SUPPORT?
You will get help from instructors and classmates on the most challenging parts of your math class, including homework problems and preparing for tests. You will also learn math concepts and strategies in a course designed to streamline and improve your performance in your current math course. There is no homework for this class.
"I LOVE THIS CLASS!!! They answer all my questions when I have them. Each professor is so helpful and informative. They always give you the best advice on how to do the problems. And I'm getting a B in my class because of it! Which is the highest math grade I've ever received."
~ LPC student
Daytime, Evening, In-Person, Hyflex & Virtual
What does the RESEARCH say?
LPC Math Jam students have ~10% higher success rate in their next math course compared students who did not attend Math Jam!
Concurrent Support WORKS. Statewide data shows that students are more likely to succeed with concurrent support.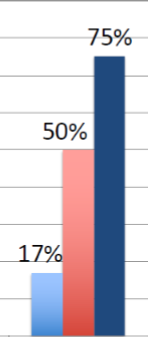 Starting one remedial course below college statistics.
Enrolling directly into transfer-level course.
Enrolling directly in transfer level-course with concurrent support.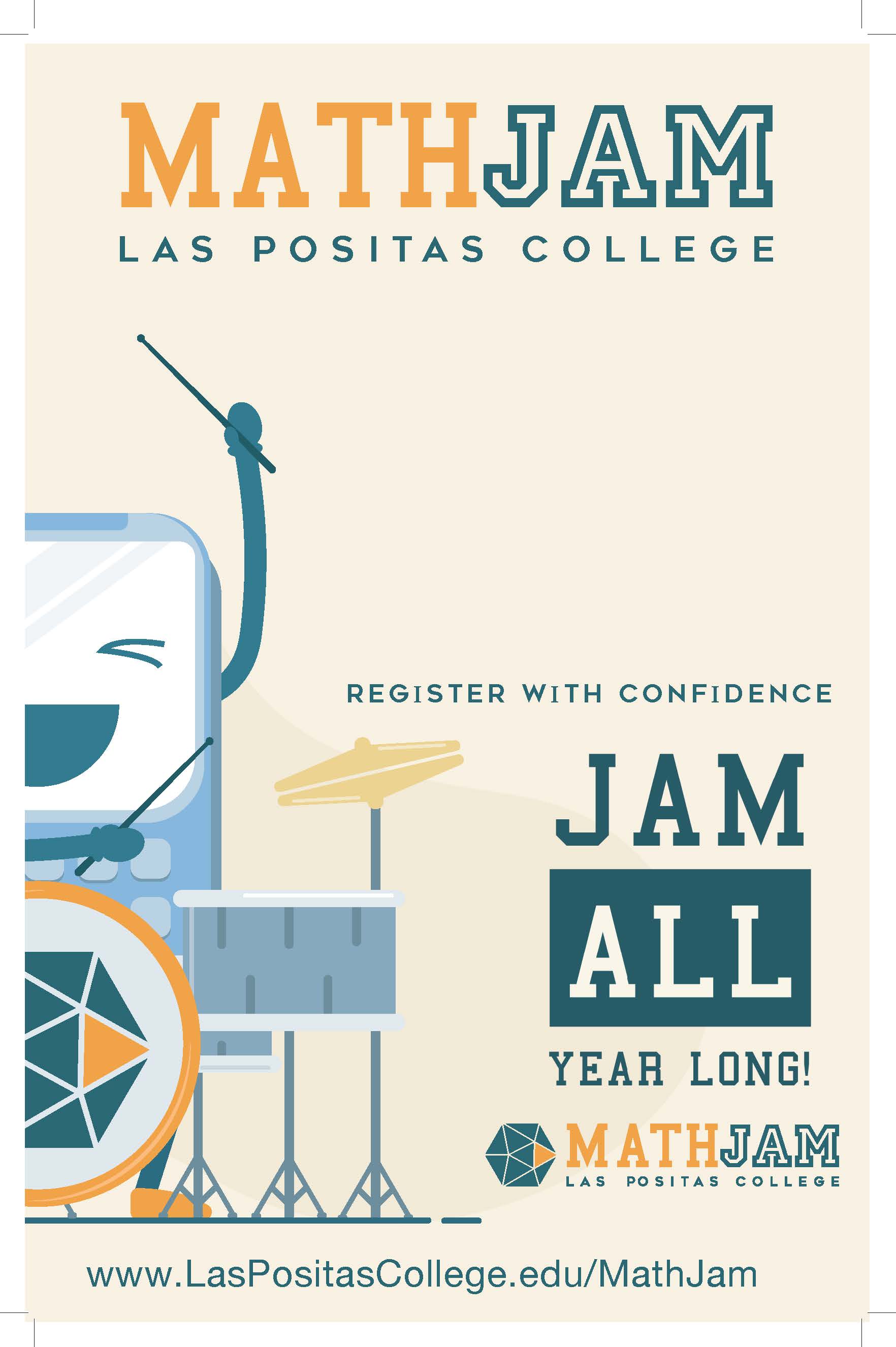 How to Register for Math Jam or Concurrent Support Fall 2023:
Log into ClassWeb when your registration window is open and register for the Math Class that is right for YOU. For more information about what your options are, visit https://laspositascollege.edu/math/
In ClassWeb, register for the Math Jam Bootcamp course and/or Concurrent Support Course that aligns with your Math Class. Choose from the options below based on your target math course:
If you are enrolling in MATH 40: Statistics and Probability, MATH 47: Math for Liberal Arts, and MATH 33: Finite Mathematics consider:
BEFORE Spring Semester

DAY(S)

Time(s)

Mode

Noncredit Support

(Tuition Free, 0 units)

MTWThF

9:00am – 3:00pm

HyFlex: In-person or online synchronous - your choice!

NMAT 264 M01 CRN 21821

MTWTh

6:00pm - 9:00pm

HyFlex: In-person or online synchronous - your choice!

NMAT 264 M02 CRN 22777

DURING Fall Semester DAY(S)

Time(s)

Mode

Noncredit Support (NMAT)

(Tuition Free, 0 units)

Credit Support (MATH)

(1 -unit, elective)

MW

9:30am – 10:45am

HyFlex

In-person or online synchronous - your choice!

NMAT 200C Section C02

CRN 21809

MATH 100C Section C02

CRN 21758

MW

2:00pm – 3:15pm

HyFlex

NMAT 200C Section C04

CRN 21810

MATH 100C Section C04

CRN 21759

MW

3:30pm – 4:45pm

HyFlex

NMAT 200C Section C05

CRN 21811

MATH 100C Section C05

CRN 21760

T Th

9:30am – 10:45am

HyFlex

NMAT 200C Section C07

CRN 21812

MATH 100C Section C07

CRN 21761

T Th

2:00 – 3:15pm

HyFlex

NMAT 200C Section C01

CRN 21808

MATH 100C Section C01

CRN 21757

T Th

6:00 – 7:15pm

HyFlex

NMAT 200C Section C10

CRN 21813

MATH 100C Section C10

CRN 21762
If you are enrolling in MATH 30: College Algebra for STEM, MATH 39: Trigonometry or MATH 34: Business Calculus consider:
BEFORE Spring Semester

DAY(S)

Time(s)

Mode

Noncredit Support

(Tuition Free, 0 units)

MTWThF

9:00am – 3:00pm

HyFlex: In-person or online synchronous - your choice!

NMAT 265 M01 CRN 21822

MTWTh

6:00pm - 9:00pm

HyFlex: In-person or online synchronous - your choice!

NMAT 265 M02 CRN 22776

DURING Fall Semester DAY(S)

Time(s)

Mode

Noncredit Support (NMAT)

(Tuition Free, 0 units)

Credit Support (MATH)

(1 -unit, elective)

MW

9:30am – 10:45am

HyFlex

In-person or online synchronous - your choice!

NMAT 201C Section C02

CRN 21815

MATH 101C Section C02

CRN 21768

MW

2:00pm – 3:15pm

HyFlex

NMAT 201C Section C04

CRN 21816

MATH 101C Section C04

CRN 21769

MW

3:30pm – 4:45pm

HyFlex

NMAT 201C Section C05

CRN 21817

MATH 101C Section C05

CRN 21770

T Th

9:30am – 10:45am

HyFlex

NMAT 201C Section C07

CRN 21818

MATH 101C Section C07

CRN 21771

T Th

2:00 – 3:15pm

HyFlex

NMAT 201C Section C01

CRN 21814

MATH 101C Section C01

CRN 21767

T Th

6:00 – 7:15pm

HyFlex

NMAT 201C Section C10

CRN 21819

MATH 101C Section C10

CRN 21772
If you are enrolling in MATH 1, MATH 2 or MATH 3: Calculus I, II or III consider:
BEFORE Spring Semester

DAY(S)

Time(s)

Mode

Credit Support

(noncredit not available for Calculus, 0.5 - 1 units)

MTWThF

9:00am – 3:00pm

On Campus (Face-to-face)

MATH 66 Calc I CRN 22355

MATH 67 Calc II CRN 22356

MATH 68 Calc III CRN 22357

OR noncredit

NMAT 265 CRN 21822

DURING Fall Semester DAY(S)

Time(s)

Mode

Noncredit Support (NMAT)

(Tuition Free, 0 units)

Credit Support (MATH)

(1 -unit, elective)

MWF

9:30am – 10:20am

HyFlex

In-person or online synchronous - your choice!

NMAT 201C Section C02

CRN 21815

Section C02

MATH 66C Calc I CRN 22700

MATH 67C Calc II CRN 22701

MATH 68C Calc III CRN 22702

MW

2:00pm – 3:15pm

HyFlex

NMAT 201C Section C04

CRN 21816

Section C04

MATH 66C Calc I CRN 22703

MATH 67C Calc II CRN 22704

MATH 68C Calc III CRN 22705

MW

3:30pm – 4:45pm

HyFlex

NMAT 201C Section C05

CRN 21817

Section C05

MATH 66C Calc I CRN 22706

MATH 67C Calc II CRN 22707

MATH 68C Calc III CRN 22708

T Th

9:30am – 10:45am

HyFlex

NMAT 201C Section C07

CRN 21818

Section C07

MATH 66C Calc I CRN 22709

MATH 67C Calc II CRN 22710

MATH 68C Calc III CRN 22711

T Th

2:00 – 3:15pm

HyFlex

NMAT 201C Section C01

CRN 21814

Section C01

MATH 66C Calc I CRN 22697

MATH 67C Calc II CRN 22698

MATH 68C Calc III CRN 22699

T Th

6:00 – 7:15pm

HyFlex

NMAT 201C Section C10

CRN 21819

Section C10

MATH 66C Calc I CRN 22712

MATH 67C Calc II CRN 32001

MATH 68C Calc III CRN 22714