Child Study Students
ECE Lab Program
LPC Model Demonstration Laboratory Program
The Child Development Center at Las Positas College serves as a campus-based child development program providing both academic instructions to students enrolled in child development/early childhood education courses and childcare services to student, staff, and community families.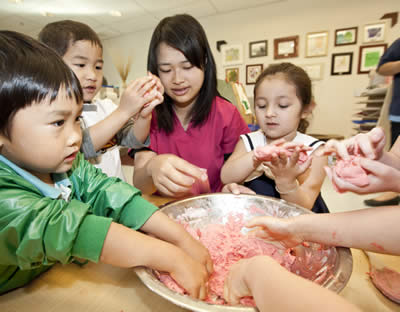 Providing demonstration classrooms to the college community, our program offers a model of best practice in early childhood education while providing students learning opportunities through observation and on-floor interactions with young children and their families. Parents should be aware of the teacher training and community service components of the program when enrolling their child.
The Las Positas College Child Development Center is a carefully-modeled learning environment for both children and adults. Child Development students most often serve as our ECD Student Assistants. There are student teachers (interns) whose work at the center is often the culmination of their course requirements. Besides Student Assistants, our Preschool and Toddler Teachers act as immediate supervisors and trainers for the students. They help train and develop into potential and valuable ECD teachers in the field.
These student assistants and "mentee" teachers are under the supervision of the LPC Early Childhood Education faculty and the child development center supervising teachers. Other students may also be involved in observing and studying children enrolled at the center through assignments offered in various college and campus courses.
Child study lab observations and assignments are conducted by appointment and with prior approval of the Child Development Center staff. ECD Students will be required to provide a LPC student ID, Class Registration record, and copy of the ECD instructor's course assignment. For information on scheduling an ECD course-related observation or lab assignment, feel free to contact our Program Director.
Family Handbook



CENTER HOURS - Monday - Friday
7:00am - 5:30pm


For more information please contact:
Front Desk
(925) 424-1560
Fax: (925) 373-6912
Laura Reno, MA, Ed.
Interim Program Director
(925) 424-1575
lreno@laspositascollege.edu

License # 013420889


Located in Building 2300 on the northwest side of Campus Hill Loop, between Parking Lot H & Building 1850