Community Education
English Community Education Courses
Stay tuned for future class offerings.
The English Department is pleased to offer two community education courses. These courses are open to all and are appropriate for any skill level and any age. Below are course descriptions and the link to register.
Previous Offerings:
Grammar 101: Writing Strong Sentences
Summer 2022 Class Offerings:
As noted in the flyer below, this is an online, self-paced class. At the end of each class, you have the option to meet with the instructor via Zoom or in person, depending on the class you sign up for.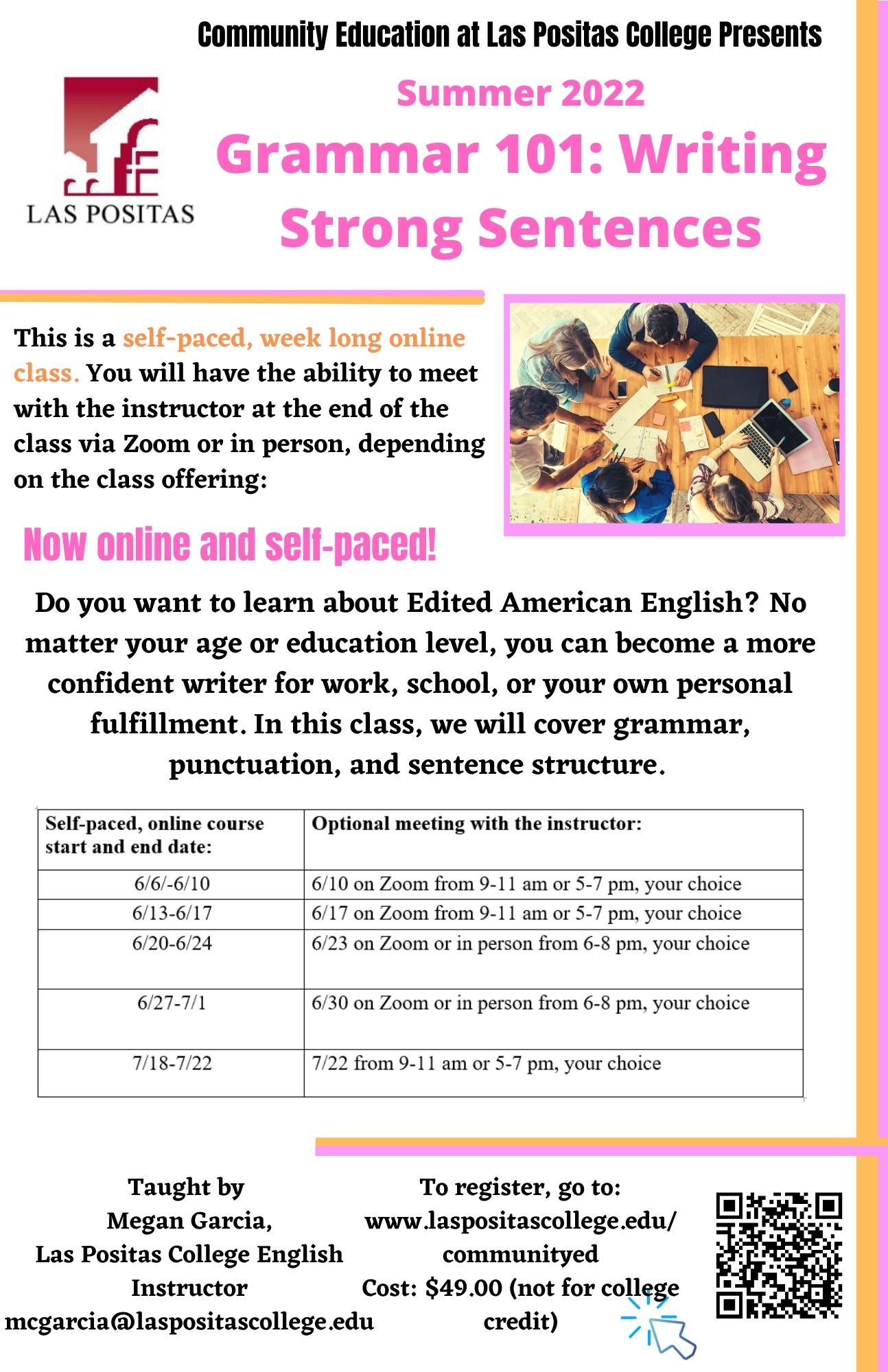 Course Description:
Do you want to learn about Edited American English? Whether you are a current college or high school student, a returning student, an English language learner, or just want to brush up on your grammar skills for school, work, or fun, this class is for you! No matter your age or background, you will learn how to write more efficiently and effectively. You can gain the tools needed to become a more confident writer. This class is for anyone who wants to improve their writing life, and it is for both teens and adults!
Course Offerings:
| | |
| --- | --- |
| Self-paced, online course start and end date: | Optional meeting with the instructor: |
| 6/6/-6/10 | 6/10 on Zoom from 9-11 am or 5-7 pm, your choice |
| 6/13-6/17 | 6/17 on Zoom from 9-11 am or 5-7 pm, your choice |
| 6/20-6/24 | 6/23 on Zoom or in person from 6-8 pm, your choice |
| 6/27-7/1 | 6/30 on Zoom or in person from 6-8 pm, your choice |
| 7/18-7/22 | 7/22 from 9-11 am or 5-7 pm, your choice |
Essay Structure: Basics*
*Megan Garcia is not offering this course for Summer 2022.
Course Description:
Whether you are transitioning from high school to college, a returning student, an adult learner, or in need of a refresher on writing a college-level essay, this class will cover essay basics and help prepare you to start a college English course. This course covers the following: essay structure, outlining skills, crafting structured paragraphs, essay focus, and tips for revision. It is a mix of both lecture and workshop, where you will share your writing with the instructor and with each other to receive feedback and guidance. By the end of the course, you will come away with a completed, college-level essay and most importantly the skills that will help you feel ready to take on your first college English course.
Information and Registration:
For more information, visit the Community Education webpage.
To sign up, visit http://www.laspositascollege.edu/communityed/index.php
For questions about this page or the courses themselves, please contact Megan Garcia.