CalWORKs
CalWORKs Eligibility
The following criteria will help determine possible eligibility for the Las Positas College CalWORKs Program.
You must be enrolled or plan to enroll at Las Positas College

You must be considered low-income and have at least one dependent child under the age of 18.

The county you live in can determine if you meet CalWORKs county guidelines.
You have applied for CalWORKs cash-aid through the county and the CalWORKs county office has determined you are eligible to receive benefits.
How do I apply for CalWORKs?
Click on "Apply" for details to complete the steps to apply through the CalWORKs county office. Steps to apply to the Las Positas College CalWORKs Program to receive additional benefits can also be found in this section.
Benefits Provided by the County
Monthly financial assistance (cash benefits may vary and are subject to county determination)
Books, supplies and mileage costs covered
Employment expenses covered
Childcare costs covered for approved welfare-to-work activities including study time on campus
Up to 4 years focusing on your education as an approved main welfare-to-work activity
Exemption opportunities to overcome major barriers to your success
Benefits Provided by the Las Positas College CalWORKs Program
Additional educational supplies
Career and academic advising from counselors in the CalWORKs office
Advocacy with the Department of Social Services for major county issues
Work study employment opportunities on campus and job development
Priority registration
Extra (free) tutoring services
Statewide and regional CalWORKs scholarships
Student recognition events
Referrals to other departments on campus (EOPS/CARE, DSPS, etc.) and to college and community resources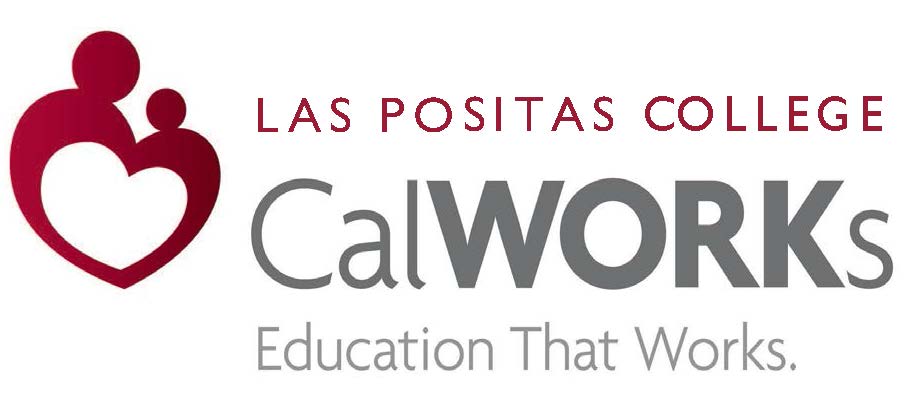 Contact Us
Building 1600, 2nd Floor
Room 1668
lpc-calworks@laspositascollege.edu
925-424-1431
Virtual Office Hours
Mon 9:00-1:00pm
Tue 2:00-5:00pm
Wed 9:00-1:00pm
Thu 2:00-5:00pm
Fri CLOSED

In-person Office Hours
Mon 9:00-6:00pm
Tue 9:00-6:00pm
Wed 9:00-6:00pm
Thu 9:00-6:00pm
Fri CLOSED

*hours subject to change

Click the Live Chat link during our office hours to inquire about our program, ask us questions, get assistance, or speak with a CalWORKs counselor via Cranium Cafe.