Physical Collection
Physical Collection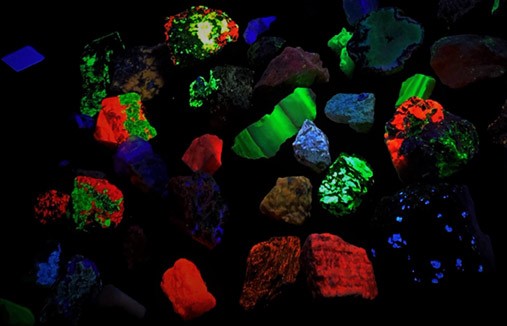 LPC Geology Department's fluorescent rock and mineral collection under ultraviolet light during lab time. Photo taken by a geology student.
On campus, the LPC Geology department has an expanding physical collection of rocks, minerals, fossils, and more! In lecture and lab courses, students will get a chance to physically handle and see some of our extraordinary specimens collected over the years. In Room 1824, students can walk around and glimpse some of our more rare samples displayed in the display cabinets.
Over the years our collection is constantly changing and evolving.
Here students will see:
Minerals
Rocks
Fossils
Models
Display Cases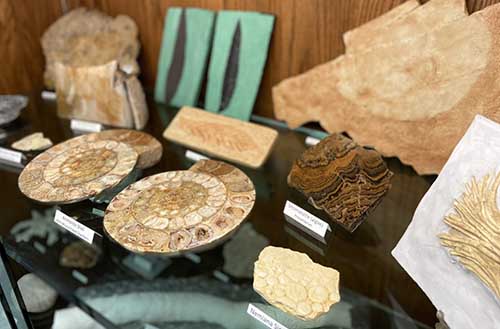 Display case featuring fossils and replicas. Ammonites, a stromatolite, and other specimens can be seen in the photo on display.
Students can view the display cases while visiting room 1824 during lab times and office hours. Our lab technician and student assistants have spent numerous hours building our beautiful displays for public to enjoy.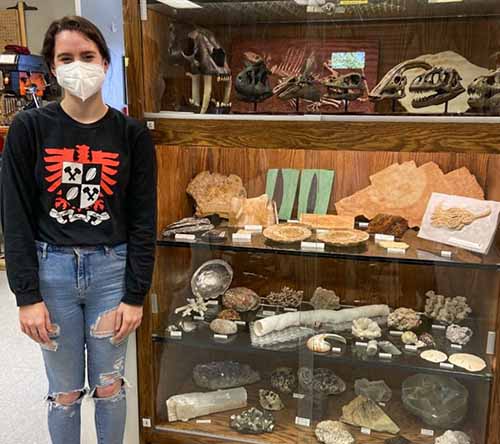 Geology student assistant Isla standing next to the display case she created.