Grace Lai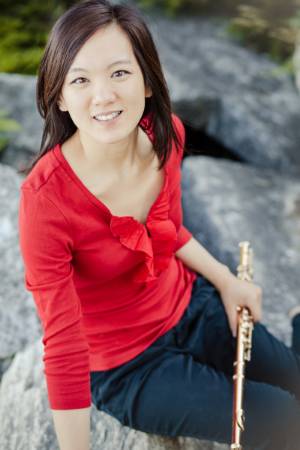 As an avid soloist, chamber musician and conductor in the Bay Area, Dr. Grace Lai performs with Fremont Symphony Orchestra, San Francisco Wind Ensemble, and Modesto Opera. In addition to being on the faculty at Las Positas College, Lai is the Concert Band Director at De Anza College, the Associate Director at Fremont Youth Symphony Orchestra, and Music Instructor of Fremont Education Foundation and La Honda Music Camp.
A native of Taipei, Taiwan, Lai holds a doctorate degree in flute performance from the University of Missouri – Kansas City. Lai has been the recipient of many music awards, including the UMKC Women's Council Graduate Assistance Fund, the UMKC Conservatory Women's Association Anniversary Scholarship, Yamaha Outstanding Musicians Scholarship, and the Mu Phi Epsilon Foundation Merle Montgomery Doctoral Grant.
Lai performed frequently as a member of contemporary music ensembles. She was invited to perform with the Chicago-based new music ensemble Fifth House in a radio broadcast of the Rush Hour Concerts at St. James Cathedral (Chicago) and at the Ravinia Festival. She also performed with multiple Grammy award winning contemporary chamber music group Eighth Blackbird. Lai has worked closely with numerous composers, including Chen Yi, Zhou Long, Chingju Shih, and Asha Srinivasan, and has commissioned or premiered several new works. Her festival experience includes appearances at the James Tenney Festival, Elliott Carter 100th Birthday Festival, University of Central Missouri New Music Festival, ArtSounds, and Fresh Inc Festival.
Email: glai@laspositascollege.edu

For more information please contact:
Daniel Marschak
Music Department Coordinator
Office 4227
(925) 424-1116
dmarschak@laspositascollege.edu
Cindy Browne Rosefield
Director of Instrumental Music
Office 4229
(925) 424-1119
crosefield@laspositascollege.edu

Andreas Preponis
Director of Choral & Vocal Studies
Office 4236
(925) 424-1118
apreponis@laspositascollege.edu
Mertes Center for the Arts (Bldg 4000)
Las Positas College
3000 Campus Hills Drive
Livermore, CA 94551