Academic Calendar - Spring 2019
Academic Calendar (Spring)
Spring 2020
Date
Event
January 13
Spring 2020 Semester instruction begins (full-term classes only)
January 13
Associate Degree and/or Certificate of Achievement filing period begins through April 1
January 13 - February 2
Late enrollment for full-term classes – on a space available basis. Register online through
CLASS-Web or in-person with add authorization number
January 18
Instruction begins for Saturday classes
January 20
HOLIDAY - Martin Luther King, Jr. (no instruction)
January 31
Last day to ADD/DROP with No Grade-of-Record (NGR) - In-Person (full-term classes only)
February 2
Last day to ADD/DROP with No Grade-of-Records (NGR) - Online via CLASS-Web (full-term classes only)
February 3
CENSUS date (full-term classes only)
February 13
Last day to request Pass/No Pass (full-term classes only)
February 14 - 17
Holiday – Presidents' Weekend (no instruction) College closed
March 2
Priority California Financial Aid Deadline
March 21
Saturday Classes Meet
March 23 - 28
SPRING BREAK (no instruction) (no Saturday classes)
April 1
Deadline to apply for an Associate Degree, Certificate of Achievement, and/or Career Certificate
April 10
Last day to WITHDRAW with a "W" - In-Person (full-term classes only)
April 12
Last day to WITHDRAW with a "W" - Online via CLASS-Web (full-term classes only)
May 9
Last day of Saturday classes
May 15
Last day of Instruction
May 16
Final Exams for Saturday classes
May 18 - 22
Final Examination Period
May 22
Commencement/Graduation
May 25
HOLIDAY - Memorial Day
May 26
Instructors – Spring grades due by 11pm via CLASS-Web
Short term class add/drop, refund, and pass/no-pass dates are calculated individually by class based on the specific number of meeting days. The add/drop and refund dates are listed on the instructor's class roster. However, students may access the dates by going directly to Class-Web and search under "Course Deadline Dates" under the Student Services tab.
*These dates apply to Full-term courses only.
Notice of Office Closure:
The Admissions & Records office will be closed Friday, December 13, 2019 for Professional Development Training. We will resume normal business hours on Monday, December 16, 2019.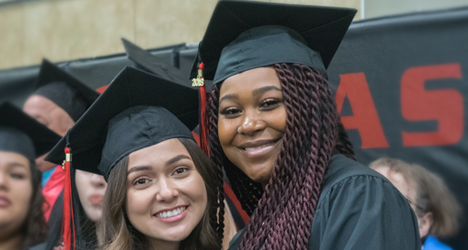 Application Information
Applications for Spring 2020, Summer/Fall 2020, and financial aid (FAFSA and CADAA) are available October 1, 2019.
Admissions Office
Office Hours
Tuesday
9:00 am – 7:00 pm
Wednesday
9:00 am – 5:00 pm
Thursday
9:00 am – 5:00 pm
Contact Information
General Admissions & Records question(s)?
Email: Click here!
Degree/Certificate question(s)?
Email: Click here!

Residency question(s)?
Email: Click here!


Call Us: (925) 424-1500
Building 1600, Second Floor