Academic Calendar - Spring 2019
Academic Calendar (Spring)
Spring 2021
Date
Event
January 19
Spring 2021 Semester instruction begins (full-term classes only)
January 19
Associate Degree and/or Certificate of Achievement filing period begins through April 1
January 19 - February 7
Late enrollment for full-term classes – on a space available basis. Register online through
CLASS-Web or in-person with add authorization number
January 23
Instruction begins for Saturday classes
January 18
HOLIDAY - Martin Luther King, Jr. (no instruction)
February 5
Last day to ADD/DROP with No Grade-of-Record (NGR) - In-Person (full-term classes only)
February 7
Last day to ADD/DROP with No Grade-of-Records (NGR) - Online via CLASS-Web (full-term classes only)
February 8
CENSUS date (full-term classes only)
February 11
Last day to request Pass/No Pass (full-term classes only)
February 12 - 15
Holiday – Presidents' Weekend (no instruction) College closed
March 2
Priority California Financial Aid Deadline
April 3
Saturday Classes Meet
April 5 - 9
SPRING BREAK (no instruction) (no Saturday classes)
April 1
Deadline to apply for an Associate Degree, Certificate of Achievement, and/or Career Certificate
April 16
Last day to WITHDRAW with a "W" - In-Person (full-term classes only)
April 18
Last day to WITHDRAW with a "W" - Online via CLASS-Web (full-term classes only)
May 15
Last day of Saturday classes
May 21
Last day of Instruction
May 22
Final Exams for Saturday classes
May 24 - 28
Final Examination Period
May 28
Commencement/Graduation
May 31
HOLIDAY - Memorial Day
June 3
Instructors – Spring grades due by 11pm via CLASS-Web
* Additional information regarding commencement is sent throughout the semester by the Office of the Vice President of Student Services.
Spring 2021
DROP FOR NON-PAYMENT DEADLINE

Students who register for Spring classes between Nov 10 - Dec 1, 2020 must pay fees by Dec 8, 2020.
IMPORTANT: Your classes will be dropped if payment is not received by this date.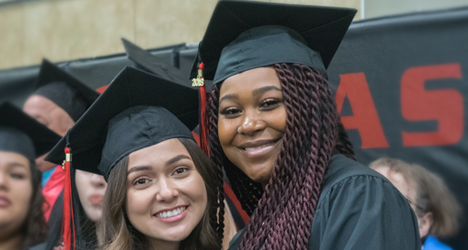 Application Information
Applications for Fall 2020/Spring 2021, and financial aid (FAFSA and CADAA) are available October 1, 2020

Admissions & Records Office
Building 1600, Second Floor
Office Hours


Tuesday
9:00 am – 5:00 pm
Wednesday
9:00 am – 5:00 pm
Thursday
9:00 am – 5:00 pm
Starting, Monday, August 10 A&R will provide the following services in person from 9am - 1pm for the following (2) services only:
Receive cash payments for tuition/fees
Issuance of Student Identification card
There are no payment by phone the week of November 23, 2020. Payments by phone will resume or the week of November 30, 2020.

Contact Information

Our office is working remotely to serve you during this time and we are experiencing a high volume of inquiries which may increase our respond time.

Email:lpc-admissions@laspositascollege.edu

Phone: (925) 424-1500