Career & Employment Center
Career & Employment Center
Welcome to the Las Positas College Career & Employment Center providing students and alumni with resources to achieve their career and employment aspirations.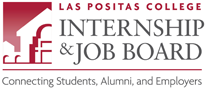 Services are FREE! Students can register and get notifications about College job and internship fairs, newly posted positions, career tips and more. Employers can post positions and search student résumés.
Watch the Video to Learn how to sign up!
Students can earn college credit for working in a job, internship, or steady volunteer position. If your work is related to your major, enroll in WRKX 94 Occupational Work Experience/Internship. If your work is unrelated to your major, enroll in WRKX 95 General Work Experience. Depending on the number of hours you work, you can earn up to six or eight units each semester. You must work 75 paid hours or 60 unpaid hours per unit. Units are transferrable to CSU. Learn more at the Work Experience website.
The

Counseling Department

will help guide you in your major selection, create an educational plan and develop skills to succeed in college.
The Tri-Valley Career Center

offers assessments, workshops, 1-on-1 assistance and those ever-important employer connections. It helps job seekers succeed in their search and offers local employers recruitment assistance and a variety of services.
No Counseling Services
Tuesday, March 10, 2020
Due to Flex Day Activities
For more information please contact:
Anne Kennedy
Outreach Specialist- Employer Relations
akennedy@laspositascollege.edu
Vacant
Career Center Coordinator tthompson@laspositascollege.edu
Room 1604A
Spring 2022
Monday
10:00 am – 12:00 pm
Tuesday
9:00 am – 4:00 pm
Wednesday
9:00 am – 3:00 pm
Thursday
9:00 am – 3:00 pm
Friday
9:00 am – 11:00 am
Closed: weekends & holidays
Please note: Information on these pages is subject to change. Spanish translation provided by Google Translate. Las Positas College is not responsible for errors in translation.