Reading and Writing Center (RAW)

We are open for summer 22' session!
Here are our summer hours for drop-in tutoring via Penji ( see the chart below as well) :
Tuesdays from 11 am - 1 pm

Wednesday from 11 am - 1 pm

Thursday from 3 - 5 pm

Sundays from 5-7 pm

Come see us for reading and writing help for any class!
Along with drop-in tutoring, paper drop-off services are available -- 48 hour turn-around!

Find us from any Canvas course on the left-hand-side navigation: "LPC Tutoring/RAW"

Follow instructions and watch instructional videos below.
How to access drop-in tutoring or drop off a paper:
Go to any Canvas course; find 'LPC Tutoring/RAW' in global navigation bar.

Create a free online account with your Zonemail (required).
Here is information on how to find and access your Zonemail email address.

Tutoring is powered by the Penji app account. Once your account is created, download the phone app (not required). You can drop-off a paper using the app as well. Here is a video on how to do so.
Questions? Please email:lpc-rawcenter@laspositascollege.edu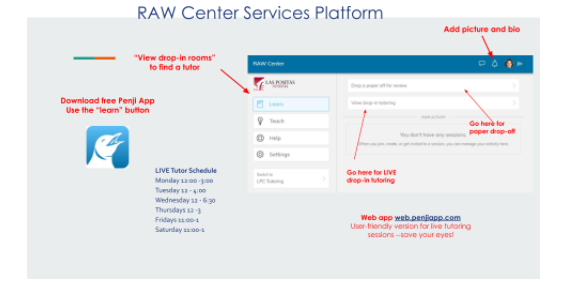 For more information please contact:
Megan Garcia
RAW Coordinator
mcgarcia@laspositascollege.edu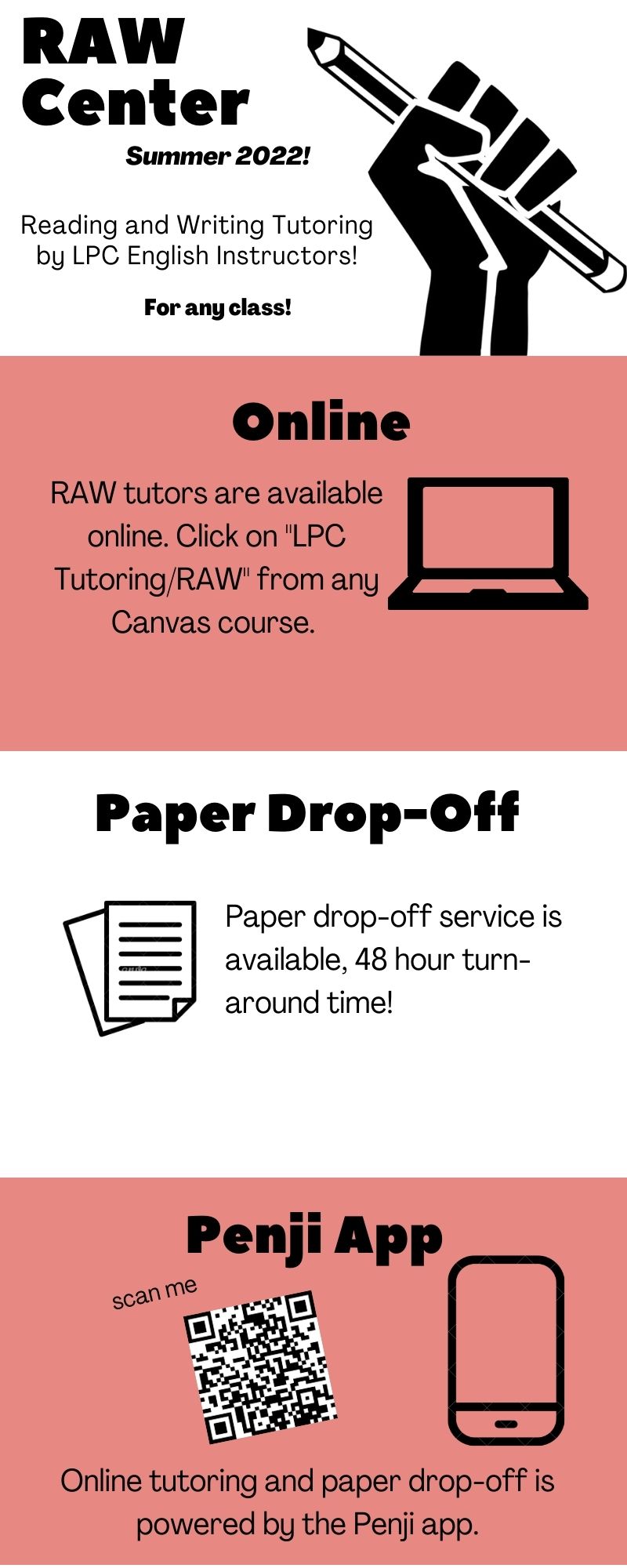 RAW Tutoring Hours

| Times | Monday | Tuesday | Wednesday | Thursday | Friday | Saturday |
| --- | --- | --- | --- | --- | --- | --- |
| 10 - 11am | X | X | X | X | | |
| 11am - 12pm | X | X | X | X | Megan Garcia | Salem Admassu |
| 12 - 1 pm | Heidii McMichael | Yi Guan | Heidii McMichael | Erin DeBakcsy | Megan Garcia | Salem Admassu |
| 1 - 2 pm | Steve Budd | Erin DeBakcsy | Steve Budd | Erin DeBakcsy | X | X |
| 2 - 3pm | Amy Moellering | Steve Chiolis | Amy Moellering | Nancy Bilbao | X | X |
| 3 - 4pm | X | Steve Chiolis | Raymond Park | X | X | X |
| 4 - 5pm | X | | Raymond Park | X | X | X |
| 5:00 - 6:30pm | X | | Nancy Bilbao | X | X | X |