Online Learning
Las Positas College will host two orientations for Summer 2018 students who are new to Online Learning. A virtual orientation will take place June 5 from 12-1:30 p.m. via the web conferencing tool Zoom, and an on-campus orientation will take place June 6 from 1-2:30 p.m. in Room 2410. View more information.
The Online Learning program at Las Positas College offers students the convenience of completing their educational goals at a distance. If you are enrolled in an online course, all class sessions, materials, and exercises are available any time of the day or night for you. All of your coursework is done virtually. Simply log into your course through a web browser, and you're in class!
LPC is transitioning from Blackboard to a new course management system called Canvas. The transition will last until the end of the Spring 2018 semester. After that, all fully online courses, hybrid courses (a combination of online and on-campus instruction), and web-enhanced courses (fully on-campus but enhanced with online materials) will be delivered in Canvas.
To help students determine which courses will be delivered in which course management system, view a list of courses using Blackboard in Spring 2018. Courses not on that list will use Canvas.
Online and Hybrid courses
If you want to see which courses are offered as fully online or hybrids, do the following:
Select your term, then click Submit Term.
Select a subject, or don't select any if you want to search all courses. Highlight Las Positas College, check Distance Ed courses and Online/Web Based Courses, and click Get Classes.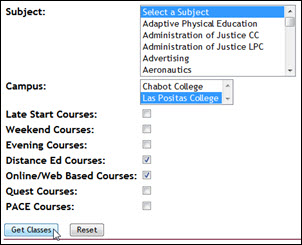 Good luck in your course(s)!
Online Learning
Canvas Student Support
Blackboard Student Support
(925) 424-1142
Contact Blackboard Support