Financial Aid Announcements
Announcements

Resources for students who have lost their jobs, have no insurance, etc. Pass it on to anyone who needs this information. PDF
CCCSFAAA Scholarship-POSTPONED UNTIL LATER IN 2020, please check back!
RaiseMe

https://www.raise.me/transfer
RaiseMe partners with universities to offer students scholarships for their achievements during community college. RaiseMe is entirely free for students!
________________________
Cal Grant B
Important! If you have been awarded a Cal Grant B, please create an account or login to

WebGrants 4 Students

. If you are transferring/or still have a few more semesters here and your remaining eligibility is 200% (2 years left), you should place your Cal Grant on hold/ take a Leave of Absense. If you have questions, please email us for assistance or contact CSAC 1-888-224-7268. Save your Cal Grant B to pay your tuition at a California 4 year institution.
_________________________
Free Workshops (see below)
FAFSA and DREAM Application Workshops
No FAFSA/CADAA Workshops at this time.

If you need assistance, please use our Cranium Cafe services to help you with your financial aid application or questions that you may have about the process.
Financial Literacy Workshops
Coming Soon!
It's Tax Season, Again! Get your taxes prepared for free!
Most people may already know, due to the coronavirus pandemic, The Treasury Department and IRS have provided relief for taxpayers by extending the federal tax deadline to July 15th, 2020 and the State of California FTB moved their extension from June 15 on the same date as the Federal, July 15, 2020. There are no penalties for deferring your payment and no interest will accrue during this period.
The IRS website posted a Q & A regarding the extension to File and Pay Deadlines click on the link. https://www.irs.gov/newsroom/filing-and-payment-deadlines-questions-and-answers
The tax services (VITA) might continue in May 2020 if the restrictions are lifted, these services will be through Tri-Valley Career Center (more to come on this).
CCPG Fee Waiver Information
The California College Promise Grant for California Residents (formerly known as the BOG Fee Waiver) helps eligible students with tuition ($46 per unit). Link to Application and details.
____________________________________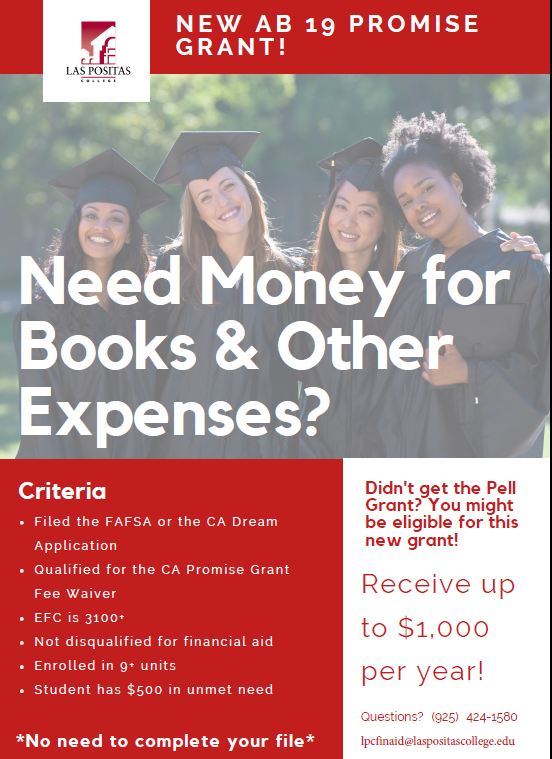 AB 19 Promise Grant - Need Money for Books & Other Expenses? FLYER
___________________________

BankMobile
Las Positas College has partnered with BankMobile Disbursements to deliver financial aid refunds and other credit balances to students. We are committed to delivering 100% of students' refunds, providing students with clear choices and offering great customer service.

___________________________

Do you need books for your classes?
Free Textbook Loaner Program (for fall/spring) brought to you by the Las Positas College Student Government. Please visit Student Life Office for details.
Financial Aid Book Loans - More Information
__________________________
Free Preschool Program for Qualifying Families
- Click here for infomational flyer - 925-424-1560
________________________
Federal Work-Study


There are currently no federal workstudy positions available, funds have been fully allocated for the 2019-2020 school year. Please check back in early August for open positions for the fall term 2020.

______________________
Tri-Valley Career Center
Workshops, Employment Information, etc.
Calendar Information
_____________________
FAFSA/DREAM Act Application
A new FAFSA must be filed every year starting October 1st. The Cal Grant deadline (through the FAFSA/Dream Act Application) is March 2nd of every year. It is one application to apply for a Pell Grant, a Cal Grant, and Fee Waiver and it is by completing the FAFSA. Please read more on Cal Grants.

2019-2020 FAFSA is for a *Fee Waiver for summer 2019, fall 2019, & spring 2020, Pell grant for fall 2019, spring 2020, summer 2020 (if eligible) *Remember, the deadline to qualify for a Promise Grant Fee Waiver is the last day of the spring semester.
2020-2021 FAFSA is for a Fee Waiver for summer 2019, fall 2020, & spring 2021, Pell grant for fall 2020, spring 2021, summer 2021 (if eligible)
_____For AB 540 (Undocumented) Students____
If you are completing the DREAM Act Application, it must be submitted no later than March 2 of each year. But if you missed the March 2 Cal Grant deadline, you can still file the application to find out if you are eligible for a Fee Waiver or Cal Grant.
_____________________
Year-Round Pell Grants
The U.S. Department of Education has recently implemented Year-Round Pell Grants, allowing students to receive up to 150% of a regular grant award over the course of the academic year (fall, spring, and summer) so that they can continue taking classes in the summer and finish their degrees faster than they would otherwise.

Summer Pell Grants (Example)
Click here in regard to summer Pell Grants
_____________________
Looking for a job or an internship?
Please review the Las Positas College Internship and Job Board at http://laspositascollege.edu/internship-job-board/
More than 100 jobs posted! Over 500 employers and over 900 students and alumni are registered. Students have landed excellent positions, such as marketing internships with the Transit Authority and IT positions at banks.
If students have questions, they can email WBL@laspositascollege.edu.
Helpful Tip:
If you cannot find your Financial Aid Information on the Zone or CLASS-Web.
Reasons may be:
You have NOT completed your Free Application for Federal Student Aid (FAFSA) or DREAM Act Application or you may have completed the

incorrect

aid year
You have NOT entered our College/ Federal School Code (030357) in your submitted FAFSA or DREAM Act Application
You have completed your FAFSA but we have NOT received it. It takes approximately 7-10 days after your FAFSA submission for us to retrieve your information (The DREAM Act Application takes much longer.)
Always double check:
Make sure you have completed the correct FAFSA for the appropriate Financial Aid Year.
Submit your FAFSA by using your FSA ID