Guided Pathways
Guided Pathways
Initiative Projects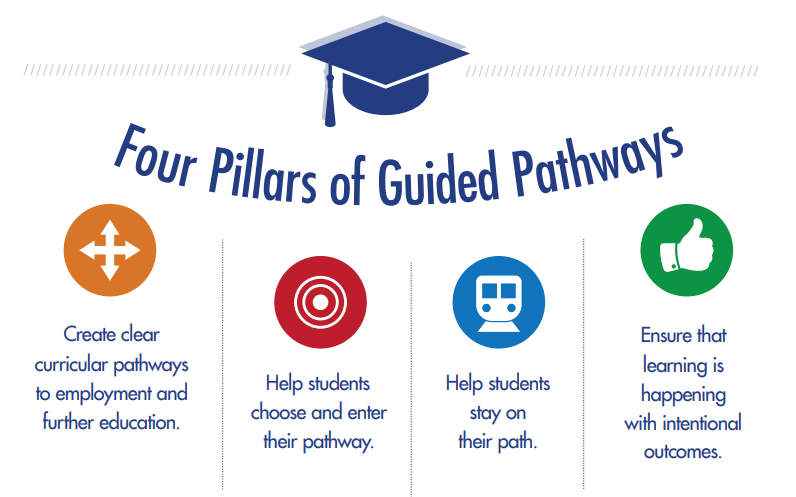 We invite everyone to attend our Guided Pathways meetings every 2nd, 3rd and 4th Fridays of the month. Please visit our Guided Pathways Calendar and contact Kristy Woods or Angella VenJohn for more information.
---
The Whole Campus Was Busy 2020-2021!
A huge THANK YOU to everyone for all of the amazing, hard work that went into making our year of action a success.
Career Exploration & Program Mapping
Goals
Develop student-facing program maps linked to careers and academic communities.

Program Mapper has been purchased and student facing- program maps will go live this academic year.

Explore and enhance early career interventions, matching students to academic programs and careers.

Career Coach was purchased and will go live March 1st.
Get involved! Meetings every 2nd Friday, 1 - 3 pm.
If interested, contact leads: Joel Gagnon, Counseling full-time faculty and Jill Carbone, Biology full-time faculty.
Entering their Pathway Project
Goals
Explore and initiate new student onboarding activities to help students enter college and identify their career earlier.

Streamline and clarify the onboarding process from application to registration.
Get Involved! Meetings every 2nd Friday, 1 - 3 pm.
If interested, contact GP Student Services Lead: Angella VenJohn, Counseling Faculty.
Persistence Project
A Persistence Project that is faculty driven, modeled after another community college (Oakton) that saw retention rates jump on average 24% and faculty satisfaction increase with participation. This project started Spring 2021 with 40+ faculty and classified participating.
If interested, contact leads for this project:
Jim Ott, English full-time faculty

Jeff Judd, Biology part-time faculty
CA Demonstration Project Team
President: Dyrell Foster
Vice President: Kristina Whalen
Dean: Nan Ho
Dean: Elizabeth David
Guided Pathways Lead (Academic Services): Kristy Woods
Guided Pathways Lead (Student Services): Angella VenJohn
Guided Pathways (Academic Services) Faculty: Jim Ott
Guided Pathways (Student Services) Faculty: Joel Gagnon
This team will attend 6 institutes over three years to receive guidance and support from other Guided Pathways coaches and bring back tools and strategies to accomplish the project here at Las Positas. These three years will be used as a time to plan for Guided Pathways work on our campus. Our project goal is to develop Student Success Teams within our Academic and Career Pathways to ensure all students are receiving the support they need to achieve their academic and career goals.
Alignment of Guided Pathways Across Campus
This work is truly an "US" thing! Amazing work is being done across campus...
Leading from the Middle (LFM) - 3 years

East Bay College Agile Network (EB-CAN) Project

Perkins Grant and Strong Workforce

Steps to Success

Academic and Career Pathways

Program Mapper

Career Exploration - Career Coach

and more!
Guided Pathways is rooted in equity, and so much work is being done to take the "luck" out of the student experience!
To highlight other wonderful things you are doing around Guided Pathways Initiatives, please contact Kristy Woods!
Do you have a reccomendation about something that can make a real difference for our students? Please share it in our Suggestion Box!