LPCSG Events
Las Positas College Student Government
LPCSG Events and Communications
* Attention:
Per the 2021-22 Return to Campus Plan, the Student Life Office would like to remind the Las Positas College Student Government, Inter-Club Council, and Student Clubs that there shall be no Student Life "in-person" activities during the fall 2021 semester. However, meetings, field trips, fundraising, etc.), may take place virtually with the presence and participation of the assigned advisor.

Thank you for your patience and understanding. Please contact Josué Hernández, Program Coordinator, Student Life and Leadership, for further information.
Follow LPCSG on Social Media

LPCSG Mental Health Event: Emotional Regulation and Discipline-How to create a routine and stick with it.
LPCSG will be hosting an informative conversation with our special guest speaker, Christine I., MFTt, to help support students at LPC. Learn how to navigate the stress and emotions that come with being a scholar.
Finals are approaching, and as the semester wraps up, we become more prone to procrastination as a subconscious reaction to overwhelming amounts of stress. Our time in college is full of surprises that can take us onto a whole range of emotional waves. Sticking to a routine and being disciplined are critical skills to a successful college career. Please consider attending and sending questions you want to hear answered!
If you would like to participate by sending your questions, please fill out this form: https://forms.gle/qT6DJq3dZiNbq3tg7. Your questions will be shared without the use of your name and the meeting will not be recorded to respect everyone's confidentiality.
Tuesday, December 7, 2021, at 5:00 pm
Click here for the event flyer.
Student Health and Wellness Center Events
City Health Urgent Care is distributing COVID vaccines every Wednesday from 8:30-4:30 in LPC Parking Lot P. The registration details are on LPC website home page or click on the link below to register for an appointment. This distribution is open to faculty, staff, students and the community for vaccinations including boosters.
https://www.cityhealthuc.com/book-vaccine-appointment-livermore/
The LPCSG is pleased to share that the LPC Student Health and Wellness Center will be offering the following events during November 2021 and ongoing.
Free Flu Shots
Behavioral Health Workshops Series
Live Chat
Drop In Personal Counseling
Chill & Chat Support Groups
Please click here for more details. You may also contact the Student Health and Wellness Center at (925) 424-1830 if you have any further questions.
Register to Vote
Join the Las Positas College Student Government (LPCSG) to increase student voter participation.
Visit the CA Student Vote website for student voter registration information.
Let's VOTE for our future!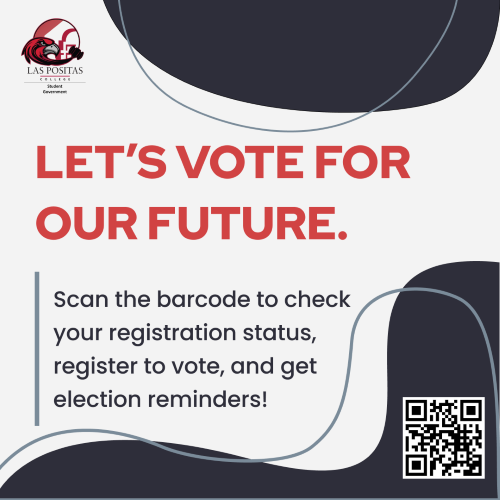 The Las Positas College Student Government (LPCSG) meetings will be held virtually for the fall 2021 semester. Please visit the LPCSG Agendas & Minutes webpage for more information.
Click here for a PDF flyer of the LPCSG fall 2021 schedule.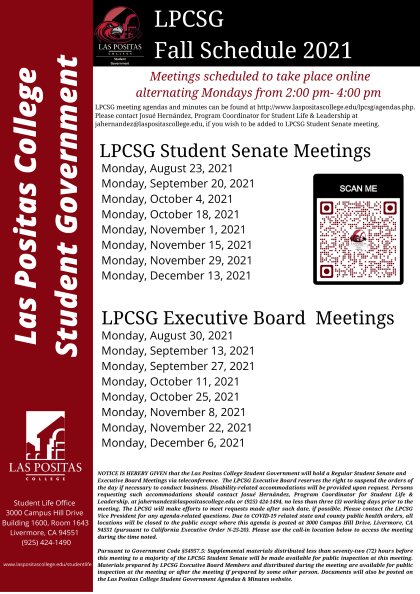 Beak Bites (LPCSG monthly newsletter)
The LPCSG is excited to share the first edition of "Beak Bites"! This monthly publication will spotlight Student Government activites, aspects of student life , and information about resources.
Formal Communications
LPCSG President Kyle Johnson's letter to the students of LPC regarding how to sign up for courses for the Spring 2022 semester and how to submit your COVID Vaccine Mandate Verification Card.
Please click here to read the letter which includes for helpful links and contact information.

Video Greetings
Coming Soon!


Constitution Day
The Las Positas College Student Government (LPCSG) hosted guest speaker Attorney John Burris of Law Offices of John L. Burris in Oakland on Friday, September 17, 2021 for Constitution Day. Mr. Burris gave a live discussion on your constitutional rights.
Mr. Burris is a civil rights attorney, author, and legal commentator for national and local television, radio, and print media. Practicing law for more than 40 years, Mr. Burris is primarily known for his work in the areas of Civil Rights with an emphasis on police misconduct and excessive force, such as many high-profile cases including Rodney King and Oscar Grant.
Please view the event flyer for more information.
Student Life Office
Building 1600, Room 1643
(925) 424-1490

Please be advised that the Student Life Office is working remotely to serve students until further notice.
All inquiries regarding Student Life may be made via email.
Fall 2021 Online Hours
Monday 9:00 am - 5:00 pm
Tuesday 9:00 am - 5:00 pm
Wednesday 9:00 am - 5:00 pm
Thursday 9:00 am - 5:00 pm
Friday 9:00 am - 5:00 pm


For more information, please contact:
Josué A. Hernández
Program Coordinator, Student Life and Leadership
(925) 424-1494
jahernandez@laspositascollege.edu
Adria Anderson-Kelly
Administrative Assistant
(925) 424-1496
aandersonkelly@laspositascollege.edu
Student Government Leaders
Visit the LPCSG Officers and Senators
webpage for email addresses.

COVID-19 Response: Campus Closed to Public, But Open Online to Answer Your Questions. Details and Resources Here.