Preparing for Assessment
Preparing for the Math Assessment (Placement)
Las Positas College uses ACCUPLACER™ to determine a students' academic skill level in reading, writing and mathematics. This is not just another test - it will help determine the best place to begin your program of study as a student at LPC. We want you to make sure that your results accurately reflect your appropriate-level courses - so make sure you prepare!
Preparing for ACCUPLACER™
What does the ACCUPLACER™ test look like?
ACCUPLACER™ is a standardized test, used across the country. It is an adaptive learning assessment, which means that it will customize the next question depending on how you answer the questions. It can branch the questions up or down in difficulty until it determines what course to place you so that you will be successful.
You will be given a pencil and scratch paper. The test will be completed on the computer.
A calculator feature will appear on appropriate problems during the exam. You will not be able to use your own.
You will not be able to skip questions. Read each question carefully and work it out in steps before answering.
Allow plenty of time to complete the testing without rushing. Estimate 45 minutes for the math portion and 1.5 hours overall.
Relax! ACCUPLACER™ was designed to help you succeed in college, but do prepare before you take it.
Prepare for the exam using the materials listed below under the "Study" section.
Get enough rest the night before.
Eat a light meal in advance of testing.
Stay alert.
Study for the ACCUPLACER™
Take your Placement Test seriously! Preparing well for your testing session can save you both time and money. Placing into the right courses will help you achieve your educational goals faster.
ACCUPLACER™ Study Guide for Math, with answer keys
Rigorous Math Reviews, including solutions to the problems, are offered below at three different levels:
For visual learners
ACCUPLACER™ Study App

If you have an iPod, iPad or iPhone you can purchase the ACCUPLACER™ app exclusively through Apple's iTunes Store. For around $3, students can brush up on their skills and become familiar with the style and content of questions asked on an ACCUPLACER™ test.

Product Features:

Interactive practice tests for ACCUPLACER™ Arithmetic, Elementary Algebra, College-Level Math, Reading Comprehension and Essay Skills tests
Immediate feedback and a detailed explanation of the correct response to multiple-choice questions

Take advantage of the study app before you take the actual tests.
Math Jam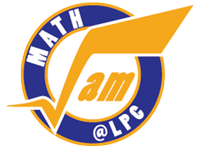 Math Jam is a FREE program for all Las Positas College students. This program is designed to help you achieve your math goals - from preparing to re-take your Assessment (Placement) Test to preparing for your upcoming math courses. This intensive one-week math program is offered the week before the start of the Fall and Spring Semesters, in January and August. At the end of the week, participants have an opportunity to re-take the ACCUPLACER™ Test and be placed correctly without waisting any time. For more details, visit http://www.laspositascollege.edu/mathjam
Ready to take your Assessment Test?
Visit the Assessment Center for more details and to make an appointment.