Inter-Club Council (ICC)
The Inter-Club Council is the representative body which coordinates interclub activities and funds, promotes communication and cooperation among clubs on campus. The ICC is composed of a voting representative from each club, representing cultural, educational, honorary, philanthropic, and social interests.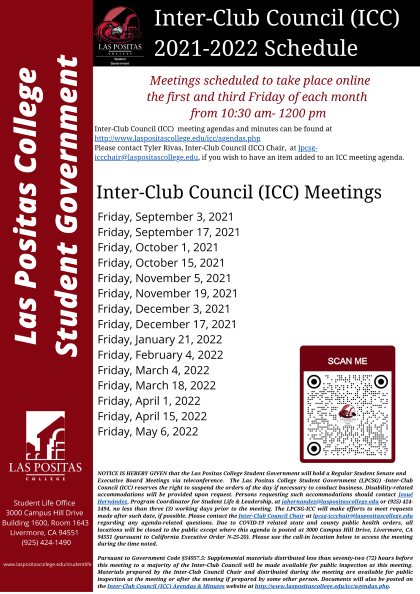 Student Life Office
Building 1600, Room 1643
(925) 424-1490

Please be advised that the Student Life Office is working remotely to serve students until further notice.
All inquiries regarding Student Life may be made via email.
Fall 2021 Online Hours
Monday 9:00 am - 5:00 pm
Tuesday 9:00 am - 5:00 pm
Wednesday 9:00 am - 5:00 pm
Thursday 9:00 am - 5:00 pm
Friday 9:00 am - 5:00 pm


For more information, please contact:
Josué A. Hernández
Program Coordinator, Student Life and Leadership
(925) 424-1494
jahernandez@laspositascollege.edu
Adria Anderson-Kelly
Administrative Assistant
(925) 424-1496
aandersonkelly@laspositascollege.edu
Student Government Leaders
Visit the LPCSG Officers and Senators
webpage for email addresses.

COVID-19 Response: Campus Closed to Public, But Open Online to Answer Your Questions. Details and Resources Here.