Elizabeth Henderson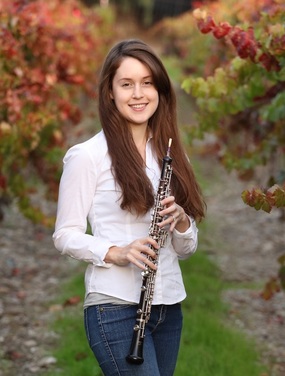 Elizabeth Henderson leads a varied career as an active freelance musician and music educator in the San Francisco Bay Area. She has performed with the San Francisco Symphony Orchestra, the Phoenix Symphony, and the Merced Symphony, among other regional ensembles. Notable conductors she has performed under include Michael Tilson Thomas, Carl St. Clair, Carl Topilow, Tito Munoz, and Edwin Outwater. Ms. Henderson performs in orchestral, solo, and chamber music settings on both oboe and English horn. In addition to her performance and teaching career she maintains her own reed-making business for local students.
As a music educator, Ms. Henderson maintains a private studio in the Bay Area. In addition to her position at Las Positas College she serves as the oboe instructor at Amador Valley High School, coaches woodwind sectionals for middle and high schools across the Bay Area, and has served as an adjudicator for the Contra Costa County Honor Band.
A native of Rochester, NY, Elizabeth received her Bachelor of Music from Ithaca College and Master of Music from Arizona State University. Her mentors include Eugene Izotov, Mingjia Liu, Martin Schuring, Paige Morgan, and Richard Killmer.
Email: ehenderson@laspositascollege.edu

For more information please contact:
Ian Brekke
Music Department Coordinator
Office 4231
(925) 424-1117
ibrekke@laspositascollege.edu
Daniel Marschak
Office 4227
(925) 424-1116
dmarschak@laspositascollege.edu
Cindy Browne Rosefield
Office 4229
(925) 424-1119
crosefield@laspositascollege.edu
Mertes Center for the Arts (Bldg 4000)
Las Positas College
3000 Campus Hills Drive
Livermore, CA 94551