The Market - Free Food for the People
The Market
Schedule for The Market | Las Positas College Student Resource Guide | Additional Food Distribution and Assistance Resources | Volunteer Opportunities for The Market

The Market is open to all students, employees, and the greater community. All food is distributed on a first-come, first-served basis while supplies last.
The Market is held on the fourth Tuesday of the month from 12:00 pm to 3:00 pm in Parking Lot E.
*Dates, times, and locations are subject to change.
Schedule for the Market:
Come visit us on the FOURTH Tuesday of the month
from 12:00 pm to 3:00 pm in Parking Lot E.
Fall 2022
Please click here to view the flyer and here for a campus map for more details.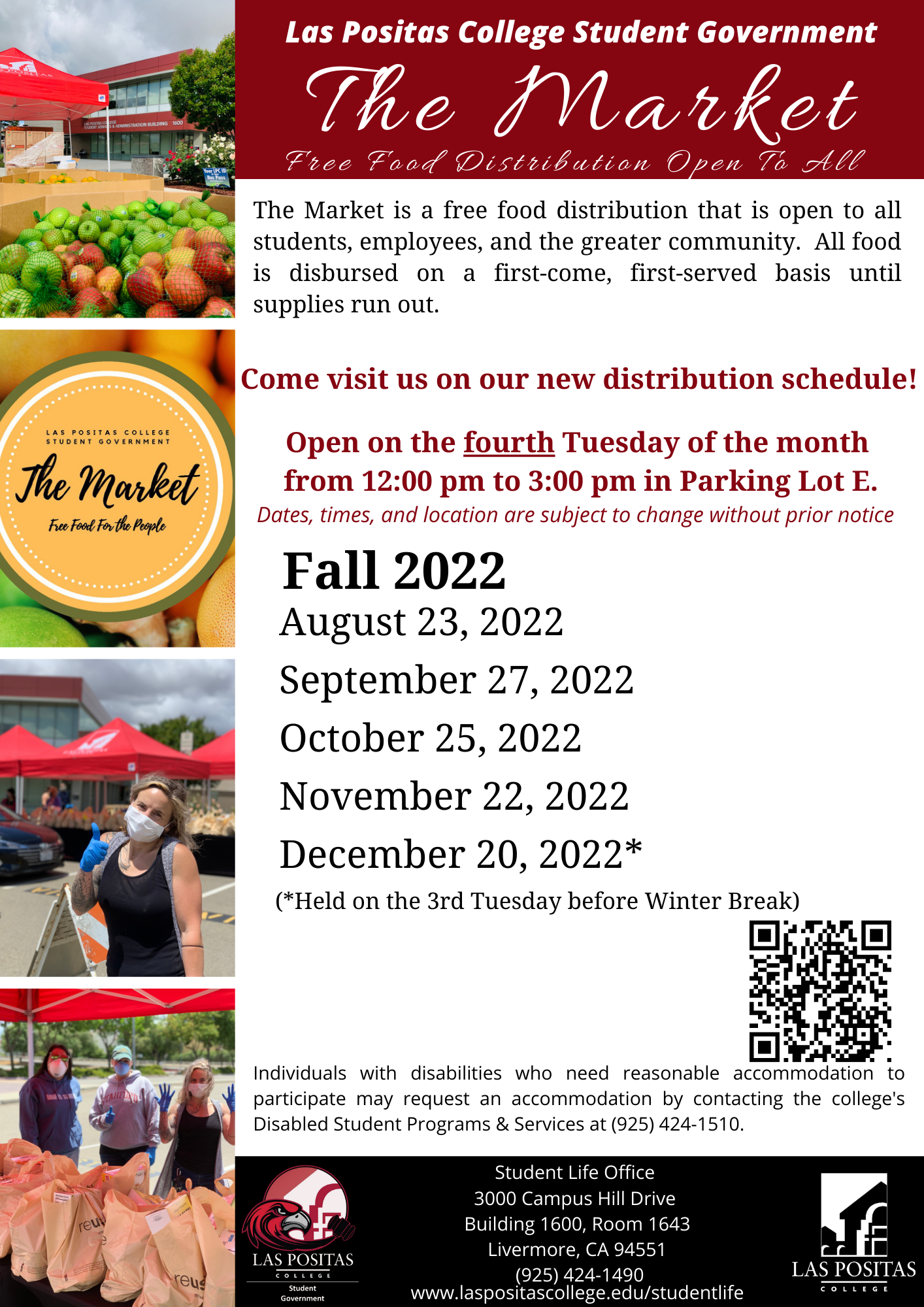 Food distribution is provided via a drive-thru food format.
For more information, or concerns you may have, you may email Josué Hernández, Program Coordinator of Student Life and Leadership.
Watch additional videos regarding The Market!
Las Positas College Student Resource Guide
We know you have a multitude of responsibilities as a student and finding the resources you need can be overwhelming and time-consuming. So, the LPC CalWorks Office created a Student Resource Guide to streamline the process for you. We hope it will be a useful tool that helps increase your educational and personal success while attending Las Positas College.
The Las Positas College Student Resource Guide can be found at www. laspositascollgege.edu/resourceguide/index.
Direct links for student resource information:
Disclaimer:
All of the following resource referrals are subject to change without notice due to services being provided by outside organizations. It is recommended that you contact the outside organizations directly to verify the status of services.
Additional Food Distribution and Assistance Resources

*Information provided below is subject to change by the organizations providing services. It is recommended that you contact organizations directly to confirm the current status and availability.
Volunteer Opportunities for The Market
If you are available, we would greatly appreciate your support. Please use this link to find a date and time that works fits your schedule .You may volunteer by completing The Market Volunteer Survey.
Timeframe:
8:00 a.m. to 12:00 p.m. - Pre-bagging of groceries and set-up
12:00 p.m. to 3:00 p.m. - Free food distribution
Public Health Order:
1. Please stay home if you feel ill.
2. Practice good hygiene.
3. Wear a face mask. (Student Life can provide mask if necessary.)
4. Maintain social distancing.
Thank you in advance for your consideration and support. We look forward to seeing you at The Market!