2.2 Challenge Walk
Pick-up Packet November 8 - HITT Factory in Livermore, CA (Times-TBA)
Schedule of Event (subject to change) | 2.2K and 5K Route - LPC Map
US Navy Blood Drive

Register Today!
https://theseanbrockfoundation.redpodium.com/22-for-22
Challenge Stations


Complete the challenge stations and your name will be entered into a drawing for AN EVENING WITH THE SAN JOSE SHARKS! You and a guest will receive a a fascinating evening at a San Jose Sharks Game in the 2019-2020 National Hockey League Regular Season. You will enjoy 2 lower bowl tickets to a mutually agreed upon San Jose Sharks regular season National Hockey League game. You will enjoy access to the private Alaska Airlines Club inside the SAP Center. During one of the intermissions of the game, you will visit the NBC Sports California broadcast booth where you will visit with Emmy Award winning Sharks television broadcaster Randy Hahn. Go Sharks!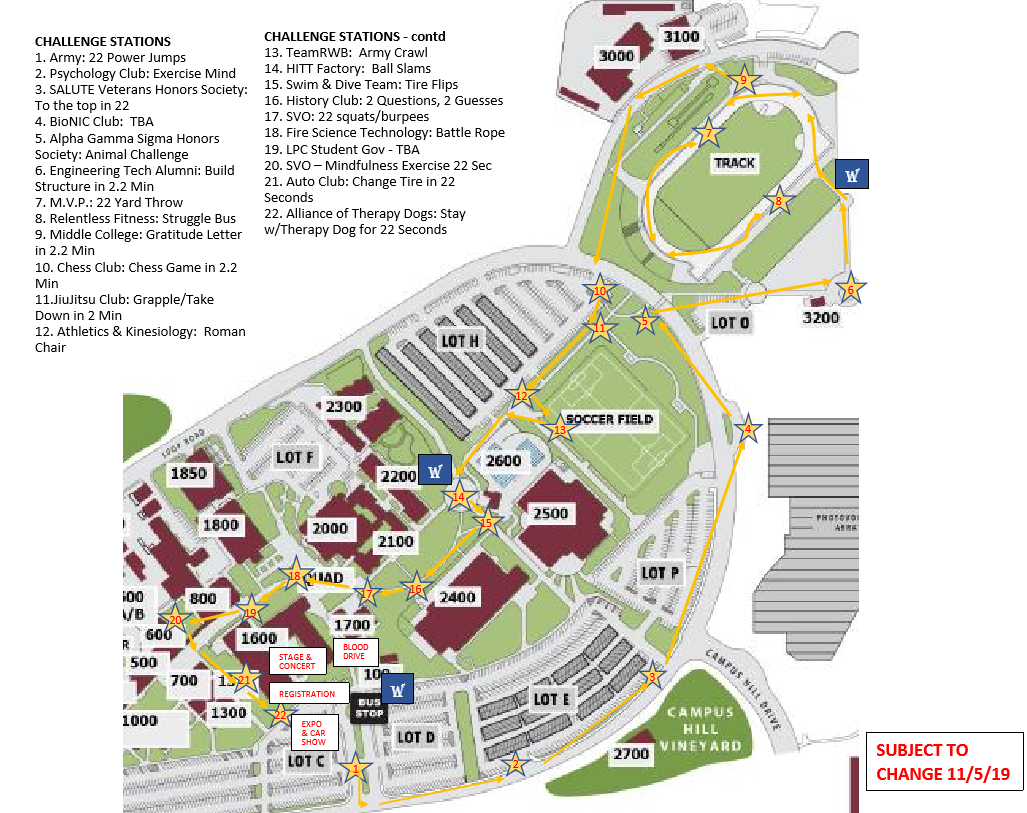 Frequently Asked Questions
Frequently Asked Questions (FAQs)

Background:
On November 9, 2019, Las Positas Campus is the perfect venue to host two big events: a 2.2 challenge walk to raise awareness that 22 veterans commit suicide daily, and a 5K run to raise funds for the Sean Brock Foundation. The 2.2 challenge walk will consist of 10 optional challenge stations hosted by campus departments and community groups with refreshments and entertainment provided. The second element will be a 5K event will raise funds for the Sean Brock Foundation scholarship. Both events will take place at the Las Positas College campus.
This year Las Positas College Foundation is partnering with the Sean Brock Foundation to bring this event to our local communities. 2.2 For 22 strives to bring education to the campus and community that 22 veterans commit suicide a day. Additionally, the funds will help bring mental health professionals to Las Positas College in an effort to support and stop suicide amongst veterans and to promote support services.
The funding collected via monetary sponsorships and donations will directly assist the Veterans First Program in providing essential mental health and awareness and health and wellness events for student veterans at Las Positas College as well as the Sean Brock Foundation that provide scholarships to injured Veterans and their families.