Past Events
Veterans First Program
Past Events
2020
Virtual LPC Graduation - COVID - 19 - Shelter in Place
2019
September 16, 2019
September 11, 2019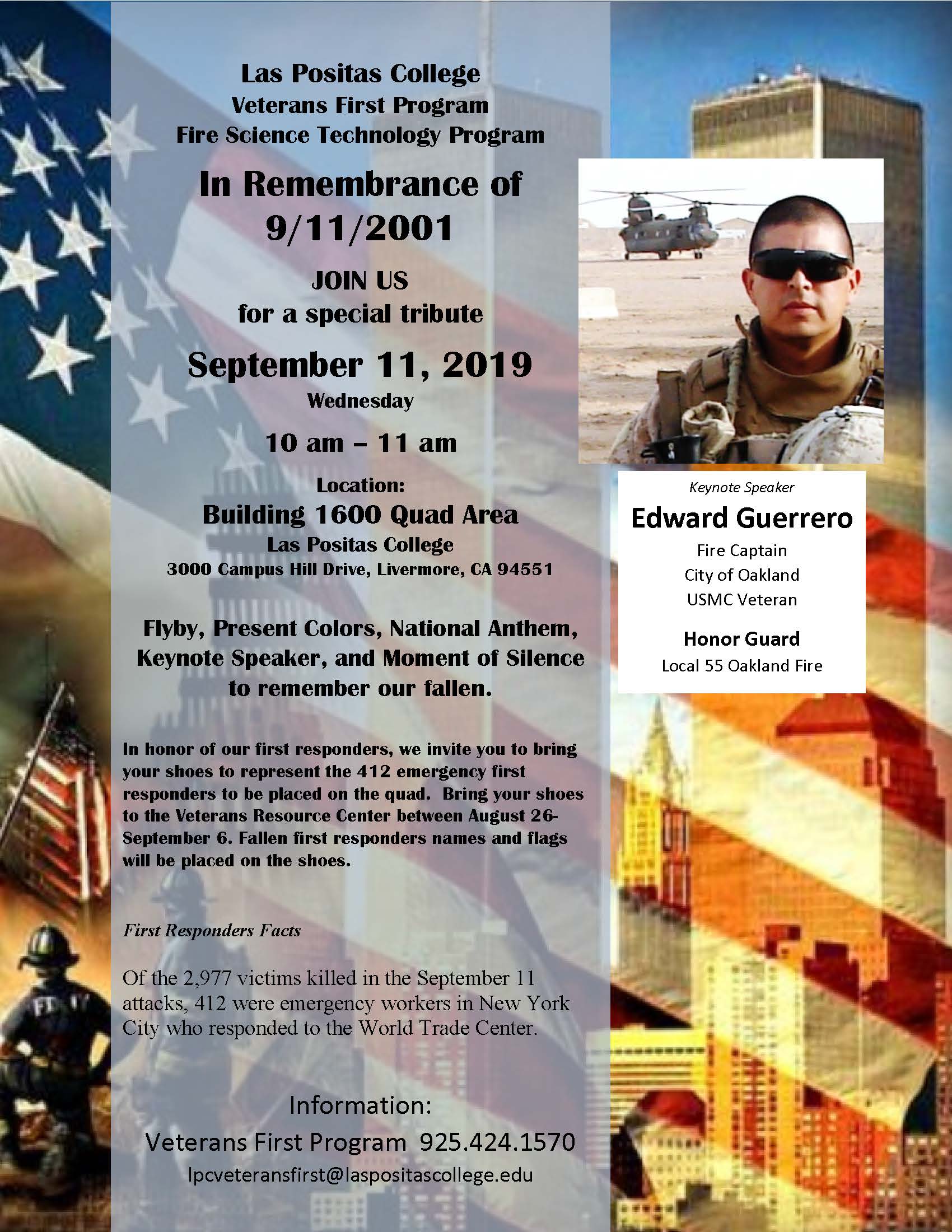 JULY 2019 - OPERATION GATEWAY xi
Operation Gateway Schedule at a Glance
Operation Gateway FAQs
Video recapping highlights of Operation Gateway will be posted soon.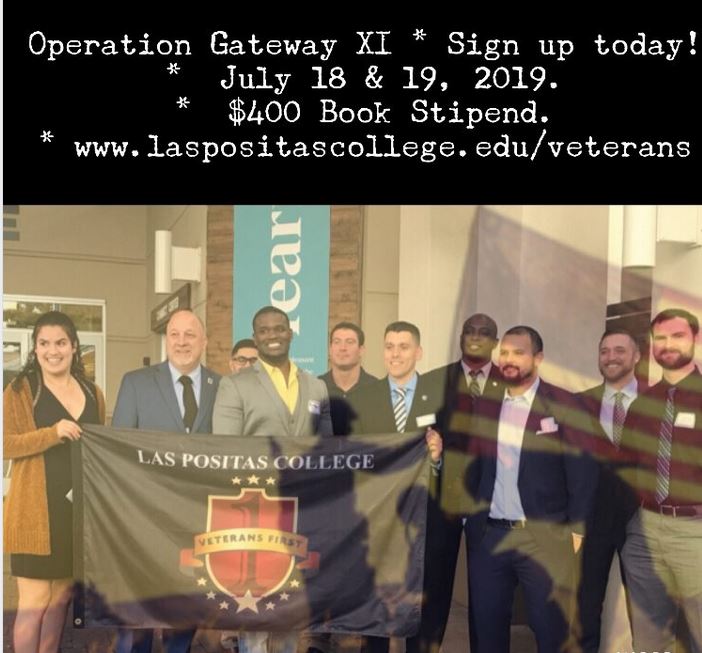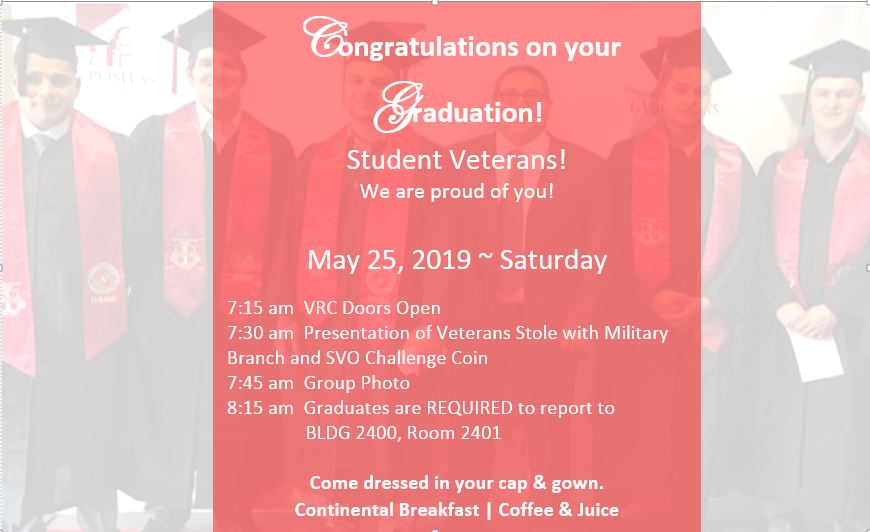 May 2019 - Spring Finals week
Meals Schedule


APRIL/MAY 2019
EYES OF FREEDOM MEMORIAL - RECAP VIDEO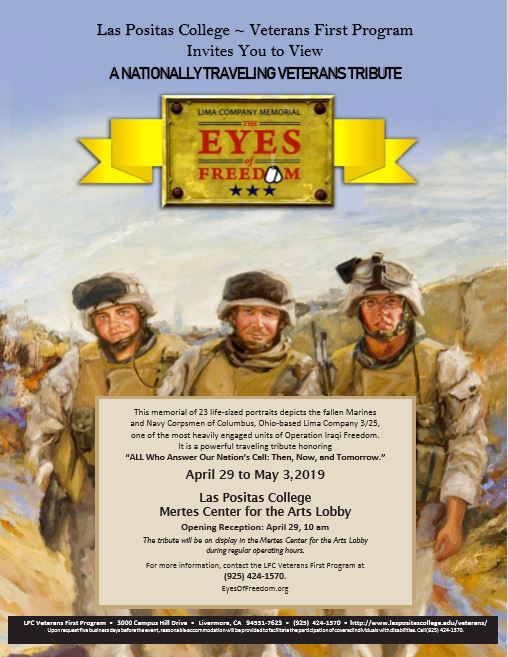 2018
Spring 2018
NATIONAL MEMORIAL COMING TO LAS POSITAS COLLEGE
Front Quad Area of Bldg. 1600 - Studemt Services and Administration, Las Positas College. Exhibit Special Opening Ceremony: April 9th @ 9 AM
Open to the Public: April 9th thru Saturday April 14th
Sponsored by: LPC Veterans First, LPC Student Veterans Organization, Safeway Foundation, Alden Lane Nursery, Rotary Club of Livermore, and Courtyard by Marriott
HONORING WOMEN VETERANS AT LAS POSITAS COLLEGE
March 14, 2018 @ 10 AM. BLDG. 1600, RM 1620.
2017 Concord Veteran Day Softball
Las Positas Bandits competed in the 2017 Concord Veteran Day Softball Invitational in Concord. This was the four annual, in which Las Positas College has participated since the first tournament in 2013. Before the games, even started representatives from LPC participated in opening ceremony recognizing and paid honor Veteran from World War to current that were in attendance. Many leadership, lawmakers and organization from the community were there to show support for veterans in the community were nine teams competing. .. Las Positas roster consisted of majority of student Veterans from all armed forces, except Coast Guard who attend LPC as either student. The team did add a few additional sign-ups from Veterans from other locations, including one from Diablo Valley College.
Records were broken this time by the Los Po Bandits. First to score in a game. First win, even though it was a no show from the AirForce team. And almost a win against a team who plays regularly.
The Bandits received a 1st round bye. Against the Coast Guard team the Las Po Bandits fell 22-2. Second game was a no-show by the AirForce team. In the third game Las Positas went against the Concord Vet Center Vigilantes and while a close game in the last minutes the Bandits fell 8-5 to be eliminated.
2017

11th ANNUAL HONORING VETERANS DAY at Las Positas College
Thursday, Nov. 9, 2017
Event begins at 11:00 AM outside of the LPC Veterans Resource CenterBBQ Lunch (Free for Veterans)
Guest Speaker: Thom Shea - (Ret,) Senior Chief US Navy Seal
1:00 PM: Las Positas College - RM 2420
7:00 PM: Veterans Memorial Hall in Pleasanton
9.11 REMEMBRANCE
9/6/17 @ 11 AM and 7:00 PM @ LPC, Mertes Center for the Arts, bldg 4000 - Main Theater
Keynote speaker: Joe Torrillo


TRAVELING MEMORIAL –REMEMBERING OUR FALLEN – POST 9.11 CALIFORNIA FALLEN
May 3rd to May 15th
Las Positas College, Livermore
The memorial will be in Building 1700, Room 1726
Hours: Mon-Fri 10am-6pm; Saturday 10am-3pm
http://www.rememberingourfallen.org/
2016
9.11 REMEMBRANCE
Keynote Speaker: Joe Torrillo
Dedication of new flag pole outside of the LPC Veterans Resource Center
WHEN: September 8th, 2016
Starts at 10:00 AM by the Veterans Resource Center
"REMEMBERING OUR FALLEN" TRAVELING MEMORIAL DISPLAY at LAS POSITAS COLLEGE
WHERE: LAS POSITAS COLLEGE, ROOM 1725
WHEN: APRIL 4th-8th, 2016, 10:00 AM - 6:00 PM
APRIL 9th. 10:00 AM - 3:00 PM
For more information please contact:
Veterans First Program
Veterans Resource Center
Shelter in Place - Team Working From Home
Phone: 925-596-5060
Virtual Reception Desk:
Zoom Meeting ID: 885 1925 8951 # (Password: Veterans)
Phone Dial:
+1 669 900 6833 (US Toll), or +1 346 248 7799 (US Toll), or +1 253 215 8782 (US Toll)
Meeting ID: 885 1925 8951 #
Password: 040665 #
LPCVeteransFirst@laspositascollege.edu
Office Hours
Effective August 3, 2020
Visit the VRC Virtual Reception Desk - see above
Tuesday
9:00 am – 5:00 pm
Wednesday
9:00 am – 5:00 pm
Thursday
9:00 am – 5:00 pm
Facebook
Twitter
GI Bill® is a registered trademark of the U.S. Department of Veterans Affairs (VA). More information about education benefits offered by VA is available at the official U.S. government Web site at http://www.benefits.va.gov/gibill