Mary Lauffer M.A.
Business Studies
Mary Lauffer M.A.
Professor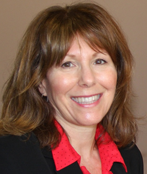 Thank you for visiting my webpage. I am passionate about supporting your academic and career success and helping you make the most of your journey. As a Las Positas College student, you have opportunities now that can shape the trajectory of your life.
I have had the privilege of teaching Business and Work Experience classes at Las Positas College for 12 years. Also, I spent more than 16 years in marketing, advertising, and communications for nonprofit and for-profit organizations, including universities, a business magazine, and a Fortune 500 company. My work has won state and national awards.
I earned a Bachelor of Arts in English with a specialization in Journalism and Communication from Miami University in Oxford, OH, while taking advantage of life-changing opportunities. During college, I held jobs waiting tables, making pizza, and cleaning offices, and also worked on the student newspaper and served as arts editor. The portfolio I built helped me land an internship at a magazine. Because of my portfolio and internship, I got a job as a reporter/photographer right after graduation. As an officer in the Women in Communications student chapter, I met an advertising professional who later connected me to my first job in advertising. My story is just one illustration of valuable opportunities for college students. Las Positas College offers many activities, learning communities, and more than 30 impressive clubs, including an award-winning business club.
While working full time, I started taking classes toward a master's degree. I was employed at a university that offered tuition reimbursement, a benefit offered by many companies and organizations and one which is worth considering when job hunting. I earned a Master of Arts with distinction in Communication with a specialization in Marketing Management from the University of New Mexico.
In addition to teaching, I also have enjoyed providing marketing and photography services to Las Positas College and the district. My work can be seen on numerous marketing and display materials and many of my photos appear on the website.
My volunteer activities include serving my church and community. In my spare time, I enjoy hiking and visiting art museums with my husband and two sons.
Having worked throughout high school and college, I feel a kinship with working students and am honored to support their success as coordinator of the Work-Based Learning Program. Work Experience classes enable students to learn valuable soft skills and earn college credit for working; learn more by visiting the Work Experience website. The program also offers the Las Positas College Internship & Job Board. I encourage all students to register and take advantage of campus job fair notices, career tips, and job alerts. Your life-changing job or internship might be posted right now!
What Students Are Saying about My Business Communications BUSN 52 Class
I really liked how you structured this online course. A lot of online courses are hard to follow and lead to dead links, but the way this class was structured was perfect. For some of my other online classes, assignments would not show up on the dashboard when they were due and I found that very frustrating because it was hard to keep track of what assignments I was doing; but with this class everything is in sync with the dashboard and I found that very helpful so thank you for that.


You are probably my favorite professor to date! The course layout on canvas was well laid out and made sense from a student's view. You were incredibly responsive to emails and always very helpful when it came to assignments. I hope to have more courses with you in the future. Thanks so much for a great semester!


Thank you for giving feedback on assignments, a good majority of professors I have had did not do this before and it really helps in building our weaknesses into strengths. Thank you!


The aspects I enjoy the most helpful are the discussions and presentations. I like hearing my classmates' opinions and viewpoints and I feel it helps me learn better. The presentations also help me learn about the topic and understand even more than the textbook.


I really enjoyed this class. I appreciate the amount of feedback you give. It is helpful and encouraging.


Thank you for all your feedback! It really helped a lot and helped me actually get a job this semester. I really enjoyed your class!


This was one of my favorite classes. I've learned so much and the instructor was easy to communicate with.


I truly believe the set-up of this class is perfect. If people want to work ahead, they can. If they mess up on an assignment, extra credit is available. To succeed in this class, you just need to read, do the work, and take advantage of all extra credit opportunities!


Everything was great, thank you! The instructor was very positive and helpful the entire semester.
What Students Are Saying About My Work Experience WRKX 94/95 Classes


I want to express my deepest appreciation and gratitude for your time, devotion and great efforts that you put into teaching your courses! I have never experienced an instructor who is so on top of their students with encouraging reminders, the gentle touch of helping your class stay on track and your genuine feedback. You're doing an amazing job and I think you should know that and know how great it was to be a part of your class.
I got a raise this year from my performance review. I was given the largest raise at the company. I credit this class with helping me to learn new things along the way that helped me to achieve this success.


The class was great and Professor Lauffer is very interactive with students and extremely helpful.


Teacher was amazing, very helpful, and supportive. Objectives were clear and very good communication.


I honestly think this class has the perfect balance of work and engagement.


I really enjoyed this course and I loved how we can do our work earlier than the due date which really helped me with my other homework.


You always respond so quickly and positively, it made me much more comfortable taking this course, thank you!


I think Professor Lauffer is one of the kindest teachers I have ever worked with and I value her advice, feedback and acknowledgement of all of my work.