LLNL/LPC Science & Engineering Seminar Series
12

th Annual LLNL/LPC Science & Engineering Seminar Series
Theory to Practice: How Science is Done
The Lawrence Livermore National Laboratory and Las Positas College Science and Engineering Seminar series provides LLNL scientists and engineers a forum to share basic and applied research with LPC students and faculty and the Tri-Valley community. The presentations will typically focus on how teams of scientists work together to solve problems from theory to practice.
Spring, 2022 Events
Thursday, April 14, 2022 6:00 - 7:00pm
Dr. Megan Eckart and Dr. Greg Brennecka
Space Rocks and Telescopes:Addressing the big questions of the Solar System and Universe at LLNL
Fall 2021 Events
Thursday, December 2, 2021, 6:00 - 7:00pm

Dr. Crystal Jaing
Monday, October 25, 2021, 6:00 - 7:00pm
Pathways to Professions in Science & Engineering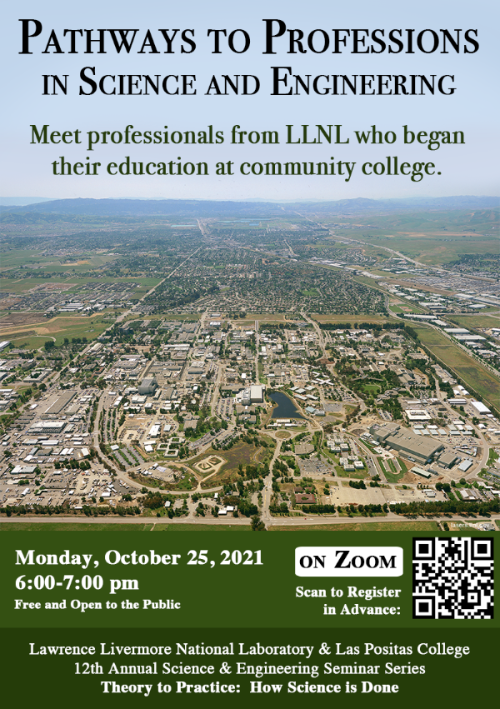 Spring 2021 Events
Monday, April 19, 2021, 6:00 - 7:00pm
Ben Santer, Ph.D.
Atmospheric Scientist, Lawrence Livermore National Laboratory
The Role of Carbon in a Net-Zero Economy
Tuesday, March 16, 2021, 6:00 - 7:00pm
Roger Aines, Ph.D.
Energy Program Chief Scientist, Lawrence Livermore National Laboratory