Math Jam
Math Jam - Las Positas College

What is YOUR GOAL?
Attend a Math Jam and register in math with confidence!
Students who have participated in Math Jam increase their success rates by 10% after only one week of preparation!
Math Jam Schedule:
| Semester | Dates | Days | Time |
| --- | --- | --- | --- |
| FALL 2019 | August 12th thru 16th | Monday thru Friday | 9:00 a.m. to 3 p.m. |
| SPRING 2020 | Janauary 6th thru 10th | Monday thru Friday | 9:00 a.m. to 3 p.m. |
Please note: LPC's Math Jam is only for students who will be attending Las Positas College that corresponding semester. To apply, you will need your student number (W#). If you do not currently have a W-number, please complete the Las Positas College Application for Admission. Click here for REGISTRATION STEPS.
---
MATH JAM BOOTCAMP COURSES
Award-winning, 1-week before the semester starts, & tuition-free!
Offered the week before the Fall and Spring semesters. Innovative learning interventions help you prepare for upcoming mathematic courses. Proven to increase student success and retention rates!
The Math Jam (prior to enrollment) is designed specifically to provide a supportive, noncredit pathway for all students into a credit math course required to transfer. Embedded are essential study and life skills to develop each student holistically, prior to enrolling in a math course as well as rigorous learning support of prerequisite and key math concepts. Prior to starting math courses, Math Jam assists students in preparing for a target first-transfer level mathematics course, required to transfer.
During Math Jam you will work in a self-paced environment on the math YOU need support on. You will work with faculty and tutors in a fun and supportive environment. We will provide everything you need - including FOOD and supplies - just come ready to learn... Remember, it's TUITION-FREE*.
Click here for REGISTRATION STEPS.
What students say about Math Jam:
"I reviewed more in one week than I feel like I have in any other class…. I learned much more than I thought possible, and all in all, this was a great way to spend my time before the semester started."

"(Math Jam was) so help full. from my pre to my post test I jumped from 36% to 88%. Although what i like most is that it is the week before school starts. I am ready for school. After math jam I am excited for all my classes, not just math. I grow up with a poor education, was always behind in school, failing, not showing up. Never thought I would be here studying a week before school and excited for it."
IT'S YOUR TURN!
Students requested...and now you can JAM ALL YEAR LONG with Concurrent Support Courses!
Modeled after Math Jam but offered during the semester, tuition-free or for credit!
These support courses are aligned with your math course and designed with innovative strategies to provide math and learning support, during the semester, while taking your math class. This class will help you streamline the time you need to spend outside of a math class studying to be successful. This support class does not have any homework. To find out more, CLICK HERE.
Register for Math Jam and Concurrent Support and earn a free certificate!
Photos from previous Math Jams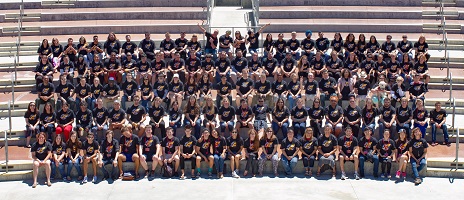 Useful links:
---
Check us out on:
Contact us! MathJam@laspositascollege.edu
Special thanks to our colleagues at Cañada College for making this possible, including Danni Redding Lapuz and Chris Woo for their generosity and support.