Engineering Technology Community

Engineering Technology Learning Community (ETLC)
About Learning Communities
Las Positas College learning communities focus on helping students reach their educational goals. Each learning community combines a series of core classes that students take as a cohort with fellow students. Students who join a learning community focus on success and receive some of the following support services. Each learning community program may vary in the specific support services provided.
ZOOM ENGINEERING TECH. LEARNING COMMUNITY OFFICE HOURS - TBA
____________________________________________
PG&E Opens Program for STEM Scholarships of up to $10,000
Qualified Applicants Encouraged to Apply by July 10, 2020 Deadline
Pacific Gas and Electric Company (PG&E) and The PG&E Corporation Foundation (The Foundation) are inviting applications to the Better Together STEM Scholarship Program. The Foundation will provide funding for a total of $250,000 to students pursuing a degree in Science, Technology, Engineering or Math (STEM) disciplines. The Program will award 20 scholarships of $10,000 each and 20 scholarships of $2,500 each.
Applications are open to graduating high school seniors, current college students, veterans and adults returning to school who are PG&E customers at the time of application. Applicants must plan to enroll in full-time undergraduate study for the entire 2020-2021 academic year and be seeking their first undergraduate degree at an accredited four-year institution in California.
Scholarships will be awarded based on academic achievement, demonstrated participation and leadership in school and community activities, and financial need.
Interested applicants can learn more and apply here. Application deadline is July 10, 2020. Awards will be announced in August.
ENGL 1A - Fall 2020
Great news! We will have an English 1A Class for Veterans, active duty, reservists/guard, dependents/spouses of Veterans, and Engineering Tech Learning Community students (veterans/non-veterans). Complete the following RSVP if you want to sign up for this class.
RSVP for English 1A
https://docs.google.com/forms/d/1AdwyWe_G9YhpFoeGVOEefryc_qbKWPqqclxgtcXo_UU/edit (Links to an external site.)

CRN 21858- V16, Tuesday 10:00-11:50 and Thursday 10:00-11:45 (includes Lab)
- Room 1007 - Professor Ott
Contact TSteffan@laspositascollege.edu if you wish to be added to this class.
____________________________________________
ETLC Hoodies!
We just received a new shipment of ETLC hoodies with our new logo! These will be provided to those who complete Apply to Engineering Tech Learning Community and attend three Engineering Tech Learning Community workshops in Fall 2020.
Back: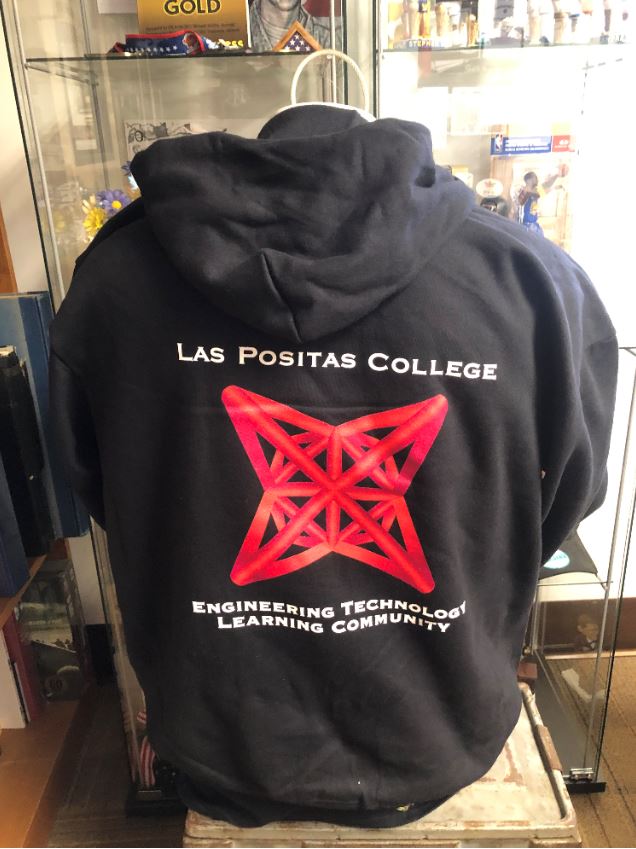 Front: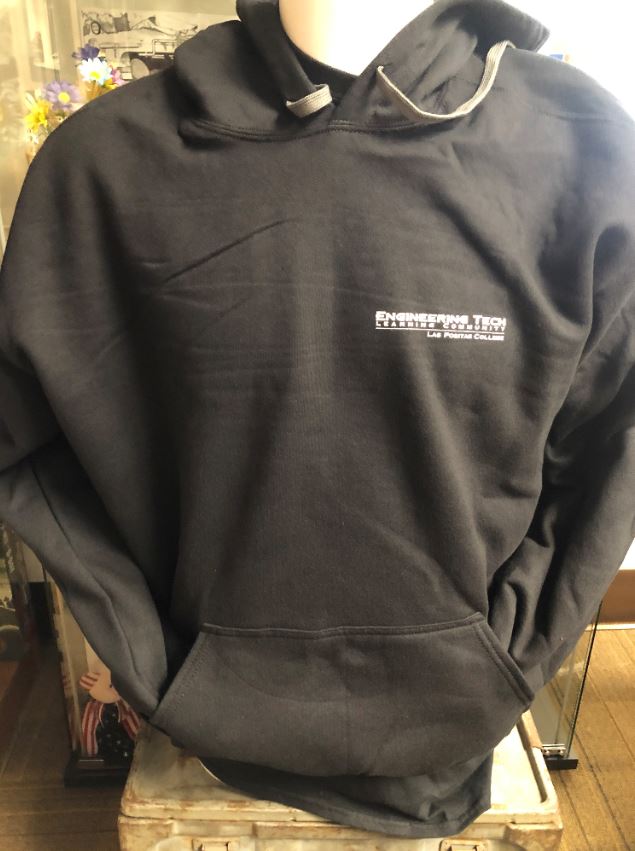 Learning community support services include:
Dedicated counselors.
Access to mentors.
College tours.
Guidance for transferring to four-year universities.
Career exploration and professional development workshops.
Education planning.
Tutoring.
Cohort classes.
Supportive staff, faculty, and classmates.
Engineering Technology
The Engineering Technology program at Las Positas College is a two-year degree pathway resulting in an Associate of Science (A.S.) in Engineering Technology. This cohort-based learning community is designed as a strong local employment pathway for military veterans and others who want a hands-on engineering career with a focus on mechanical technology in an applied setting. Students receive foundational training in engineering, mathematics, physics, and welding, and develop skills in manufacturing and fabrication, problem-solving, and critical thinking. An accelerated mathematics sequence advances students from intermediate algebra to calculus-readiness in one year. The cohort-based learning model also delivers integrated career-readiness and support services.
Internship Information
Eligible students typically participate in an 8-week summer internship featuring valuable worksite activities, tours, hands-on training, and job-shadowing opportunities at a local engineering company or national laboratory. Graduates of the program may be employed as mechanical technicians, mechanical technologists, or in other applied engineering fields. Student veterans interested in the Engineering Technology program and benefits and services for Veterans, contact the Veterans First Program.