How to Apply
Extended Opportunity Programs & Services
How to Apply
Please read the instructions below before submitting an application.
Eligibility Requirements for EOPS
Be a resident of California
Be enrolled in 12 units or more (Special accommodations for DSPS students)
Qualify for the Promise Grant Fee Waiver (formerly known as BOGG), type A OR B
Be determined as educationally disadvantaged
Not have completed more that 50 degree applicable units from all colleges attended
Application Instructions:
Before Submitting an EOPS Application:
Complete Las Positas College

Online Orientation
Submit the FAFSA, Dream Application, or Prmose Grant Fee Waiver to the Financial Aid Office -

Apply online
Submit transcripts from all colleges attended to the Admissions and Records Office, building 1600.
Register for at least 12 units (Special accommodations for DSPS students).
Create and maintain a valid email account - required for all EOPS communication.
How To Submit Your Application:
Click the "EOPS Application" link below to complete the online application.
After Submitting EOPS Application:
EOPS will contact students via email after all applications have been processed. (Please be sure the email address provided on your application is valid.)
Incomplete applications will not be processed, no exceptions.
Limited spots are available due to funding and the number of continuing EOPS students. Applications are accepted on a first-come first-serve basis.

If button above is not visable, click here to access the application:
EOPS Application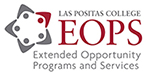 EOPS/CARE Office
Building 1600
2nd Floor
Room 1668
lpc-eops@laspositascollege.edu
925.424.1598
Fax: 925.606.8967

Fall 2022 Office Hours:*

In-Person/Office Hours

Tuesday
9:00 am – 6:00 pm
Wednesday
9:00 am – 5:00 pm
Thursday
9:00 am – 5:00 pm
Online/Virtual Lobby Hours
Monday
9:00 am – 12:00 pm
Tuesday
3:00 pm – 6:00 pm
Wednesday
9:00 am – 12:00 pm
Thursday
3:00 pm – 5:00 pm
Friday
Closed

*Office hours are subject to change.