Extended Opportunity Programs & Services
Welcome to Extended Opportunity Programs & Services
Las Positas College's Extended Opportunity Programs & Services (EOPS) assists low income and educationally disadvantaged students to achieve their educational and career goals. EOPS is a support program available for the full-time student who can benefit from a variety of extra services that promote academic success and personal growth.
EOPS provides financial assistance and support services for low-income students with unique and special needs created by language, social and economic situations. A variety of programs, services, and activities have been directed to the identification, recruitment, retention, and transition of EOPS students to four-year college/university and/or career placement.
---
Please CLICK HERE for eligibility and application instructions.

Click the live chat link above during our online business hours to inquire about our program, ask us questions, get application assistance, and schedule an appointment with an EOPS counselor.
Other ways to reach our office:
Call our office: (925) 424-1598
Send us an email: lpc-eops@laspositascollege.edu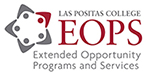 EOPS/CARE Office
Building 1600
2nd Floor
Room 1668
lpc-eops@laspositascollege.edu
925.424.1598
Fax: 925.606.8967

Fall 2022 Office Hours:*

In-Person/Office Hours

Tuesday
9:00 am – 6:00 pm
Wednesday
9:00 am – 5:00 pm
Thursday
9:00 am – 5:00 pm
Online/Virtual Lobby Hours
Monday
9:00 am – 12:00 pm
Tuesday
3:00 pm – 6:00 pm
Wednesday
9:00 am – 12:00 pm
Thursday
3:00 pm – 5:00 pm
Friday
Closed

*Office hours are subject to change.