Veterans First
gram
Welcome to Las Positas College Veterans First Program
The Veterans Support & Success Center building is OPEN for in-person support!
__________________________
Palo Alto VA Health Care Mobile Unit will be coming to LPC
MISSION L.U.C. (Leadership Updates Communication)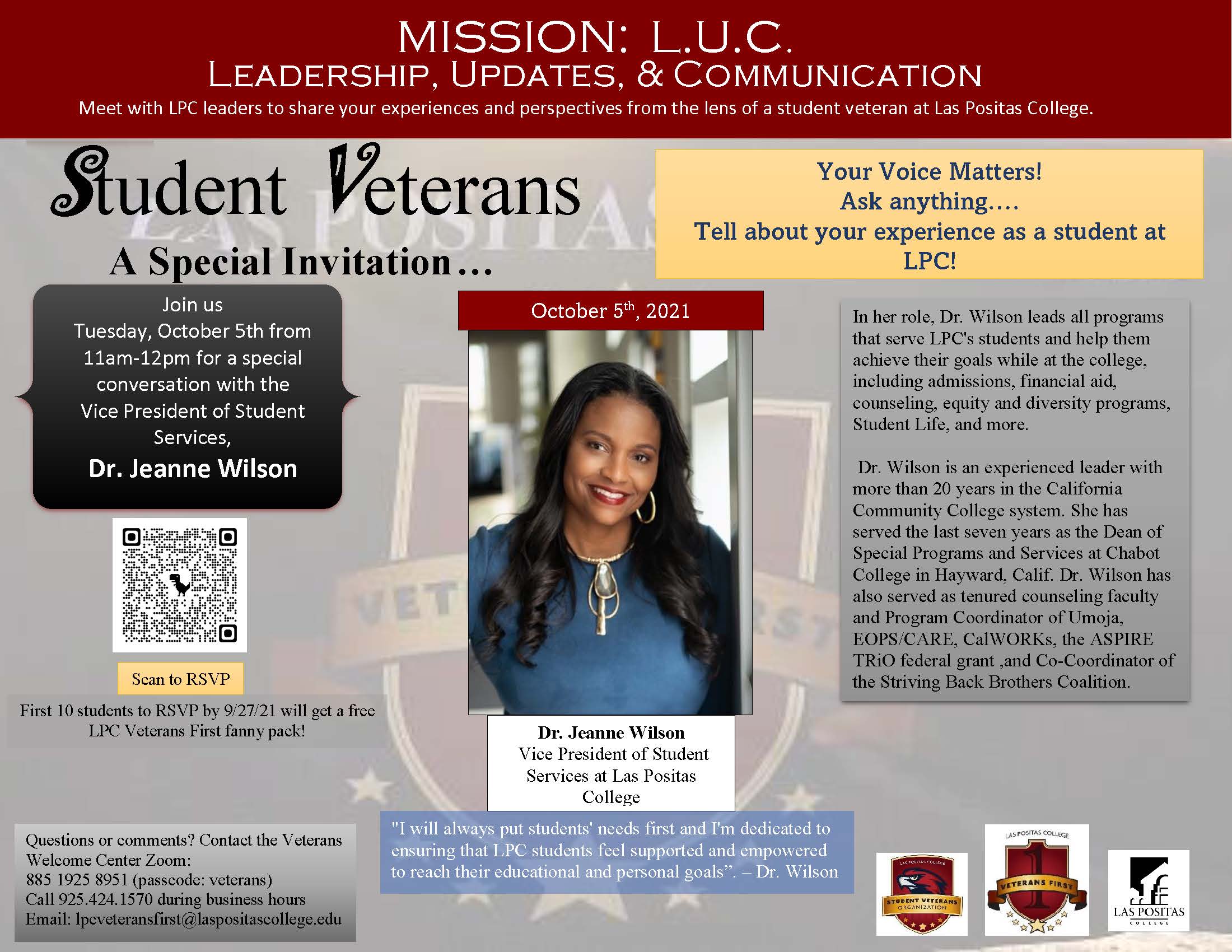 Tuesday, October 5th @ 11:00 AM
here
to knock on his door.
*Must have an appointment*
(To schedule an appointment with the LPC Veterans Counselor, visit the LPC Veterans First Virtual Welcome Desk)
Palo Alto VA Health Care Mobile Unit will be coming to LPC
September 28th, 9:00 AM - 1:00 PM
October 7th, 9:00 AM - 1:00 PM
November 2nd, 9:00 AM - 1:00 PM
WHERE: Parking lot near the Veterans Resource Center - Bldg. 1310
Some of Services Provided
Enrolling in VA Healthcare
Same day visit with doctor or nurse practitioner – no appointments needed
Referrals to specialist, vision, hearing, physical therapy
Set up blood tests, x-rays, prescriptions
Safety assessment
_____________________________________________________
Fall 2021
IT IS NOT TOO LATE TO SIGN UP FOR CLASSES
(Late Starts)
A few options to reach us:
(1) Visit our Zoom Veterans Welcome Center during office hours.
Login to https://zoom.us
Meeting ID #: 885 1925 8951 (password: veterans)
Telephone access to Zoom Veterans Welcome Center:
Dial: +1 669 900 6833 (US Toll)
Meeting ID: 885 1925 8951 # (password: 040665 # )
(2) Our Veterans Counselor is working remotely. To request an appointment with our Veterans Counselor, please click here.
(3) Visit our Zoom Workshops & Sessions webpage for zoom sessions covering topics that range from registraton questions to certifying your courses.
(4) Questions about certifying your courses or VA educational benefits, send an email LPCVeteransFirst@laspositascollege.edu
________________________________________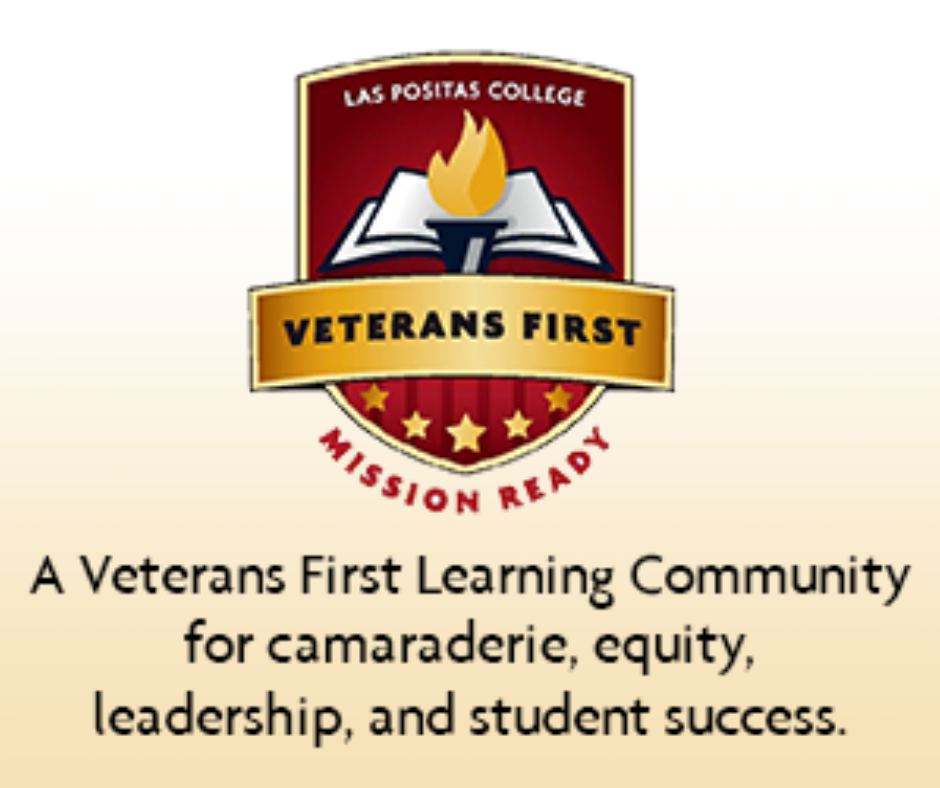 Las Positas College Veterans First Program has AGREED to
Executive Order 13607
"Principles of Excellence for Educational Institutions Serving Service Members,
Veterans, Spouses, and Other Family Members"
INFO
For more information please contact:
Veterans First Program
Veterans Resource Center
Shelter in Place - Team Working From Home
Phone: contact Zoom Veterans Welcome Center
Veterans Welcome Center
www.zoom.us
Online Zoom Meeting ID: 885 1925 8951 # (Password: veterans)
Phone Dial:
+1 669 900 6833 (US Toll), or +1 346 248 7799 (US Toll), or +1 253 215 8782 (US Toll)
Meeting ID: 885 1925 8951 #
Password: 040665 #
LPCVeteransFirst@laspositascollege.edu
Fall 2021: (August 16, 2021 through December, 2021)

Online/Virtual Office Hours
Wednesday
9:00 am – 5:00 pm
Thursday
9:00 am – 5:00 pm
Fall 2021: (August 16, 2021 through December, 2021)

In Person Hours
Tuesday
9:00 am – 7:00 pm
Wednesday
9:00 am – 1:00 pm
Thursday
9:00 am – 1:00 pm
Facebook
Twitter
GI Bill® is a registered trademark of the U.S. Department of Veterans Affairs (VA). More information about education benefits offered by VA is available at the official U.S. government Web site at http://www.benefits.va.gov/gibill