Veterans First Program
Welcome to Las Positas College Veterans First Program
WE ARE NOT CLOSED, JUST WORKING FROM REMOTELY
THE LAS POSITAS COLLEGE VETERANS FIRST RESOURCE CENTER WILL BE CLOSED UNTIL FURTHER NOTICE DUE TO THE CAMPUS SHUT-DOWN for COVID-19.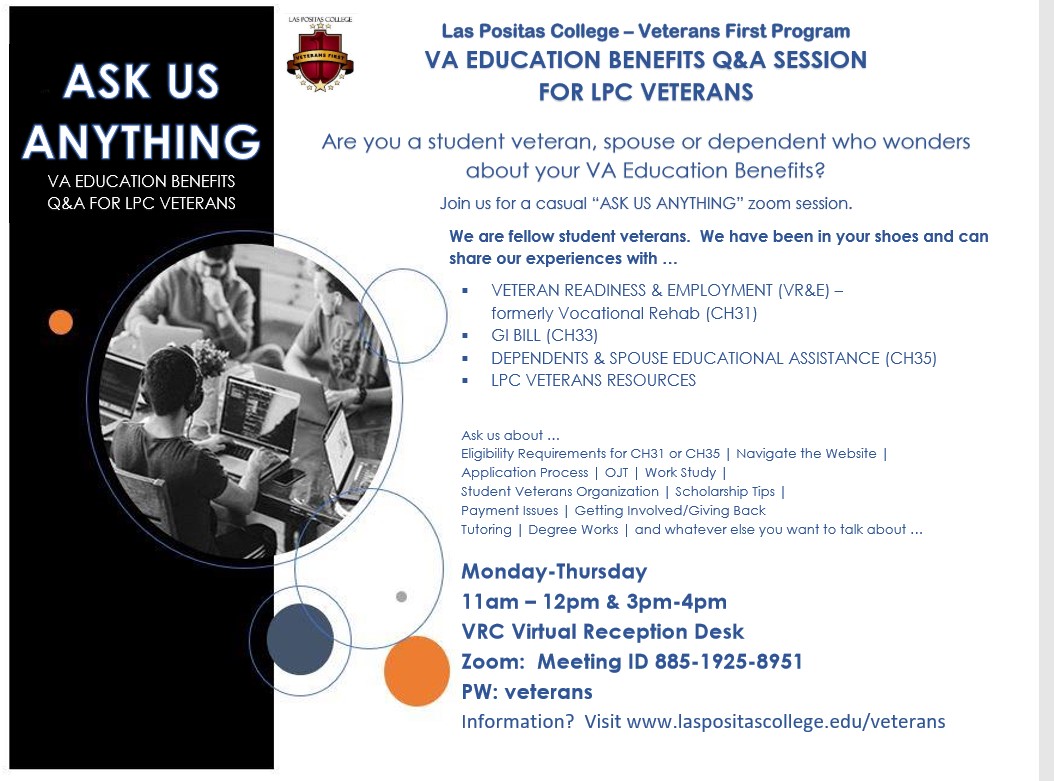 A few options to reach us:
(1) Visit our Virtual Reception Desk on ZOOM during office hours.
Login to https://zoom.us
Meeting ID #: 885 1925 8951 (password: veterans)
Telephone access to Virtual Reception Desk for ZOOM:
Dial: +1 669 900 6833 (US Toll)
Meeting ID: 885 1925 8951 # (password: 040665 # )
(2) Our Veterans Counselor has limited hours for the Summer. We will notify you of their next available appointment. To request an appointment with our Veterans Counselor, please click here.
(3) Visit our Zoom Workshops & Sessions webpage for zoom sessions covering topics that range from registraton questions to certifying your courses.
(4) Questions about certifying your courses or VA educational benefits, send an email to Evelyn Andrews, Veterans First Specialists - EAndrews@laspositascollege.edu
(5) Any other questions or concerns about veterans services and programs, general questions, send an email to Todd Steffan, Veterans First Supervisor - TSteffan@laspositascollege.edu

______________________________________________
LPC STUDENT VETERANS ORGANIZATION (SVO) IS LOOKING FOR LEADERS TO BE SVO OFFICERS FOR THIS FALL
LPC SVO Nominations are OPEN now
Deadline to nominate or be nominated is August 24th @ Noon
Only nominate individuals if they accept to be nominated
Description of positions is on the LPC SVO ByLaws
https://docs.google.com/forms/d/1sfoSB16pNOz13FY6to6fGcp-aFcHOEPC8c2sVDo9Qic/edit
Costa Veterans Service Office
A Veterans Service Representative can assist you virtually. We are available Monday thru Thursday 9am – 12pm & 1pm – 4pm, and Fridays 9am – 12pm.
***Please Note: We are not open online beyond these hours***
Join the Zoom Meeting by clicking on this link
Or connect to our virtual office by phone
(669) 900 9128
Meeting ID: 979 2501 6051
_______________________
With new COVID-19 measures, it's now easier than ever for eligible California community college students to sign up and receive money every month to help buy groceries. The average eligible student receives $150 each month and it only takes a couple of minutes to apply. Call 1-877-847-3663 (FOOD) or click here to fill out an application.

___________________________________________________
ENGLISH 1A (Critical Reading and Composition) Class for Veterans - FALL 2020
CRN 21858- V16, Tuesday 10:00-11:50 and Thursday 10:00-11:45 (includes Lab) - ONLINE - Professor - Dr. Jim Ott

AA/AS GE, Transfer: CSU, UC, CSU GE

(SIGN UP ON CLASSWEB ON WAITLIST)

Please sign up to MyVRC App and check Canvas for updates

MyVRC App for Veterans
Updates, Information, Services
Its Free - Download today
__________________________________________
View short videos on Veterans Benefits.
Click HERE
Videos include:
For more information please contact:
Veterans First Program
Veterans Resource Center
Shelter in Place - Team Working From Home
Phone: 925-596-5060
Virtual Reception Desk:
Zoom Meeting ID: 885 1925 8951 # (Password: Veterans)
Phone Dial:
+1 669 900 6833 (US Toll), or +1 346 248 7799 (US Toll), or +1 253 215 8782 (US Toll)
Meeting ID: 885 1925 8951 #
Password: 040665 #
LPCVeteransFirst@laspositascollege.edu
Office Hours
Effective August 3, 2020
Visit the VRC Virtual Reception Desk - see above
Tuesday
9:00 am – 5:00 pm
Wednesday
9:00 am – 5:00 pm
Thursday
9:00 am – 5:00 pm
Facebook
Twitter
GI Bill® is a registered trademark of the U.S. Department of Veterans Affairs (VA). More information about education benefits offered by VA is available at the official U.S. government Web site at http://www.benefits.va.gov/gibill