Certify Classes
Certify Classes


To receive the full housing allowance, students must register for one on-site or hybrid course.
To CERTIFY:
On the main LPC website, click on CANVAS found on the top navigation of the website. If you do not see a Veterans First course shell, we need to invite you to the course. Please email the veterans specialist: eandrews@laspositascollege.edu to request access.

1. Log into your LPC Canvas and access our "Veterans First" located in your Dashboard.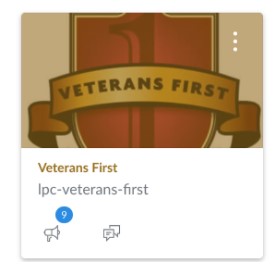 2. You should be able to view this page (see sample below) after clicking "Veterans First" course shell.

3. Complete "Certification - Part 1" and follow the prompts. After completing part 1, move on to "Certification Request - Part 2" to complete. It should be unlocked after completing part 1.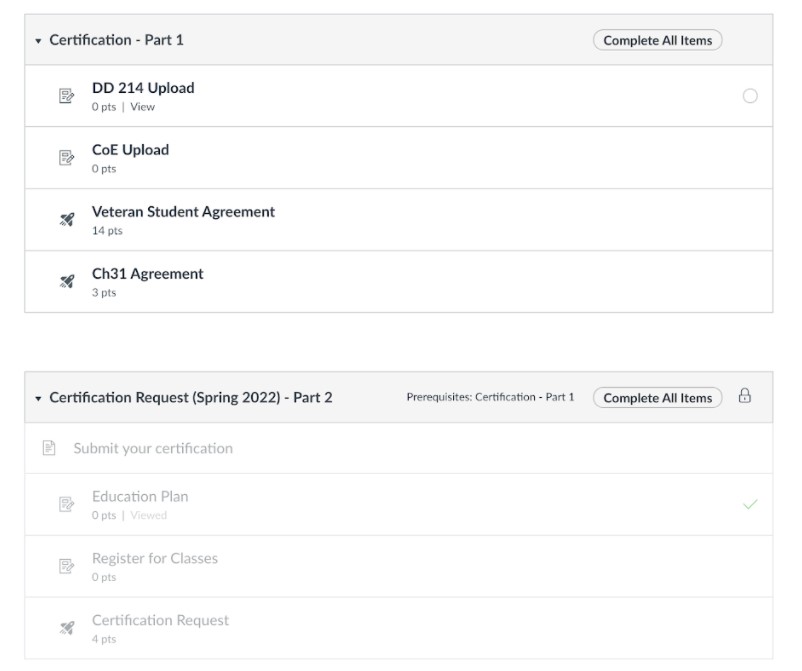 If you have any questions, comments, or concerns, visit our LPC Veterans First Welcome Center to speak with a Veterans Specialist.
Zoom Meeting ID: 885 1925 8955
Passcode: veterans
https://cccconfer.zoom.us/j/88519258951?pwd=c3VMZC9Qc21PdlplRjlmMmRvaTRzZz09u#success
---------------------------------------------------
Frequently Asked Questions
If I make a change to my schedule, such as adding or dropping a class before the term begins, how do I notify the LPC Veterans First Program?
A: Send an email to lpcveteransfirst@laspositascollege.edu with your adjustment information, such as what courses you dropped, and which courses you added.
What does it mean when the course is offered at Chabot College? Will LPC certify courses that I register for at Chabot College?
A: No. The Veterans Specialist will send a Parent letter to Chabot College confirming that the course registered for at Chabot College is on your Educational Plan. The Veterans Center at Chabot College will certify your course as a "guest" student.
What if I made an error on my schedule, for example, entered the wrong start/end dates for a course or entered the wrong units, will I need to re-submit info in CANVAS?
A: No. The Veterans Specialist will verify the data before it is submitted to the Dept of VA. If there are any discrepancies on the form, the Veterans Specialist will contact you before it is submitted to the Dept of VA.
If I need help completing the Form, will someone help me?
A: Yes, simply visit the Virtual First Welcome Center via Zoom. Information is available on the Veterans First website.
For more information please contact:
Veterans First Program
Veterans Resource Center
Phone: contact Zoom Veterans Welcome Center
Veterans Welcome Center
www.zoom.us
Online Zoom Meeting ID: 885 1925 8951 # (Password: veterans)
Phone Dial:
+1 669 900 6833 (US Toll), or +1 346 248 7799 (US Toll), or +1 253 215 8782 (US Toll)
Meeting ID: 885 1925 8951 #
Password: 040665 #
LPCVeteransFirst@laspositascollege.edu
SUMMER 2022 (subject to change)
June 6th to July 29th

Online/On-Campus Office Hours


Wednesday
9:00 am – 5:00 pm
Thursday
9:00 am – 5:00 pm
On-Campus Office Hours


Facebook
Twitter
GI Bill® is a registered trademark of the U.S. Department of Veterans Affairs (VA). More information about education benefits offered by VA is available at the official U.S. government Web site at http://www.benefits.va.gov/gibill