Kristy Woods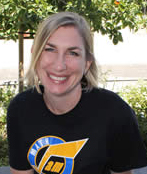 B.S., Mathematics, Willamette University, Salem, OR
M.S., Applied Mathematics, California State University, Hayward, CA
About Myself... (she/her)
I am a fulltime instructor of mathematics at Las Positas College (LPC). My first love is teaching, working with students to learn at a high level while having fun, celebrating mistakes and discovering an internal drive to be a life-long learner.
In addition to teaching math at LPC since 2003, I am currently involved in the statewide Guided Pathways initiative. I serve on the Student Equity and Achievement and Guided Pathway's Steering Committees and sit on the Veteran's First and the Engineering and Engineering Technology Advisory Boards. I also have the pleasure to be a co-coordinator for LPC's holistic Math Jam and Concurrent Supports, providing around 400 students per year with a tuition-free, rigorous math preparation instruction and essential learning skills prior to the start of the semester and during the semester to enable them to be successful in their upcoming courses. In the past, I have served as the Math Department Coordinator, Curriculum and Basic Skills Committee member and curriculum support specialist.
I have been passionate about education for all for a long time. Prior to LPC, I was a research specialist at the University of Pittsburgh, PA, traveling around the United States providing research and practice based professional development to large, low performing, minimally funded, urban school districts as a member of the Institute for Learning. This job allowed me to see how important it is to learn and implement best teaching and engagement practices in the classroom, as all students can and must learn to think mathematically. As a dyslexic student myself who struggled to learn mathematics, I am dedicated to offering students a variety of learning supports, including utilizing brain research and growth mindset activities, designed to enrich, personalize and holistically support their academic success at a high level.
I am dedicated to making this semester a success for you!
Office Hours
Monday, Wednesday and Fridays 9:30 - 10:20am in Room 601 or on Zoom! Join via FREE NMAT 202C Drop-in Math Support (CRN 32453)
Tuesday and Thursday 9:30 - 10:45am in Room 601 or on Zoom! Join via FREE NMAT 202C Drop-in Math Support (CRN 32453)